David Arquette Apologizes For Howard Stern Interview: 'I Shared Too Much'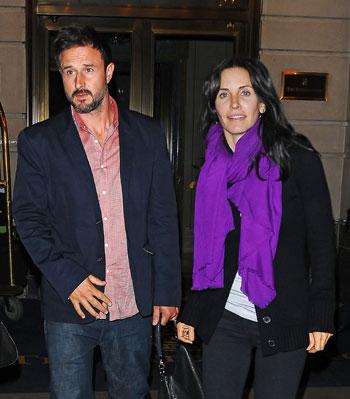 The collective jaws of America dropped on Tuesday when David Arquette gave a shockingly candid interview to Howard Stern regarding his separation from Courteney Cox. On Wednesday, the actor addressed his comments and RadarOnline.com has his heartfelt apology.
FIRST PHOTOS: Courteney Cox Surfaces Sans Wedding Ring
"Thank you all for your Love and support at this time. I'm trying figuring out how to be the best person I can be," he wrote on his Twitter page.
Article continues below advertisement
"But it's been a process of trial and error," he added. "I went on Howard Stern yesterday to provide clarity and honesty about what I'm experiencing but while doing that I shared too much."
During the Stern interview, Arquette confessed to sleeping with Jasmine Waltz during his separation from Cox ("My sexual encounter made me pretty feel manly," he said), talked about his sex life with Cox, said he believed Cox had an "emotional" affair with Cougar Town co-star Brian Van Holt, and revealed how he and Courteney told their daughter Coco that they were splitting up.
"It's alright for me to be honest about my own feelings but in retrospect some of the information I provided involved others and for that I am sorry and humbled..Life is a process of spiritual evolution," he said.
"I'm sure Courteney and myself will emerge from this painful time better people for what we've learned."
RELATED STORIES:
AUDIO: Listen To David Arquette's Howard Stern Interview
EXCLUSIVE DETAILS: Courteney Cox & David Arquette Dogged By Affair Rumors Before Split