EXCLUSIVE DETAILS: Courteney Cox & David Arquette Dogged By Affair Rumors Before Split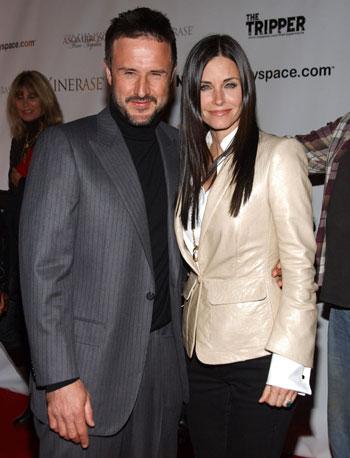 Courteney Cox and David Arquette lived an "open marriage" in the months before their sudden and shocking split, according to multiple sources close to the pair.
Cox, 46, was linked to Cougar Town co-star Brian Van Holt, while Arquette, 39, was often spotted behaving like a wild and crazy single man, at hotspots around Hollywood.
A source on set at Cougar Town told RadarOnline.com: "Courteney and Brian were all over each at a wrap party in April and the talk on the set was that it was fine because she and David had an open marriage."
Article continues below advertisement
In May, Cox and Van Holt were even spotted out together four times in less than four weeks.
On one occasion, they were photographed at Malibu's Coral Beach Cantina without her husband of 11 years and their six-year-old daughter, Coco.
"They were drinking beer and having chips and salsa in the back of the outdoor patio," said one eyewitness at Coral Beach Cantina, on May 7.
"They looked like they were holding hands at the side of their table."
While Courteney was enjoying the success of the ABC sitcom Cougar Town, a program she executive produces, it emerged Arquette begun "acting out" and "going out for nights" without his wife.
The Friends beauty and David -- who married in 1999 after meeting while filming the 1996 thriller Scream -- announced Monday that they had separated.
In a statement, the couple said: "The reason for this separation is to better understand ourselves and the qualities we need in a partner and for our marriage.
Article continues below advertisement
They added, "We remain best friends and responsible parents to our daughter and we still love each other deeply.
"As we go though this process we are determined to use kindness and understanding to get through this together.
"We are comfortable with the boundaries that we have established for each other during this separation and we hope that our friends, family, fans and the media also show us respect, dignity, understanding and love at this time as well."