EXCLUSIVE DETAILS: Jen Aniston's Shocking New Romance Leaves Close Friend Heartbroken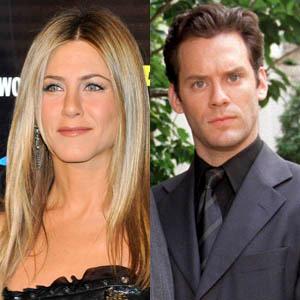 She is no stranger to having her own heart broken, but as RadarOnline.com has uncovered, it appears Jennifer Aniston is now the one causing others heartache.
The star's hot date with rumored new lover, True Blood actor Chris Gartin, has caused a stir, because the newly divorced father-of-two is the former husband of one of her closest friends.
While Hollywood is again asking if this is finally the one for its most famous Friend, RadarOnline.com has learned exclusive details about the love triangle behind the shocking hook-up — and how Jen's new romance comes at the expense of a scorned pal.
Article continues below advertisement
Chris' ex-wife, Joanne Gartin, is an Australian-born wedding planner-to-the-stars, who has long been a part of Jen's inner circle.
They socialize in the same circle, with Courteney Cox and her husband David Arquette.
It was through that friendship where Chris met Jen, RadarOnline.com has learned.
"I'm really not at all interested in it," Joanne said dismissively when asked about the relationship between Jen, 41, and Chris, 42.
But she confirmed, "Jennifer has been my friend — our friend — for over 10 years... we have known each other a long time."
Chris was unmasked as the latest mystery man in Jen's life after the pair were photographed leaving dinner at Los Angeles' Sunset Tower Hotel July 1, in the same vehicle.
Jen's rep has confirmed she and Chris dined together, but is playing down reports of a blossoming romance.
While Joanne is staying mum on whether Jen swooped in on her ex-husband, her step-mother isn't being so diplomatic.
Article continues below advertisement
Speaking from her home in Australia, Robbie Ahlfield has spoken out about the pain it has caused Joanne.
"It's been difficult for Joanne," Robbie Ahlfeld told Australian magazine Woman's Day.
"It just seems so bizarre to me because Jo and Jen are such good friends. I find it very strange that Jen would do that to Jo."
The ink on Chris and Jo's divorce is barely dry. It was only finalized last month and the pair remain in court attempting to strike an agreement of the financial terms of their separation.
Jen is also even acting as a step-mother to Chris' two-children, Sydney and Flynn, RadarOnline.com has learned.
"Jen is in their lives," said Robbie.
"She comes to their house and Sydney and Flynn go to her house a lot, to play in the pool.
"Jen gets on well with the kids and they play together."