AUDIO: David Arquette On Jasmine Waltz: 'I Did Have Sex With Her One Time, Maybe Twice'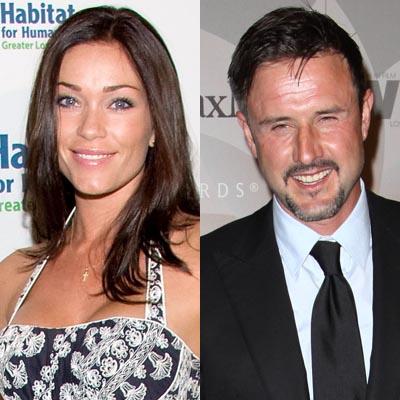 In the wake of the bombshell announcement that Courteney Cox and David Arquette are splitting up, the quirky actor called into Howard Stern's Sirius radio show Tuesday morning for a tell-all interview in which he confirmed RadarOnline.com's report he'd bedded another woman, talked about how they broke the news to their child, and what his relationship with Cox is like in the wake of their split.
AUDIO: Listen To David Arquette's Howard Stern Interview
Article continues below advertisement
As we previously reported, 28-year-old bartender Jasmine Waltz is the woman eyed as Arquette's paramour, and the beauty has certainly danced with some of Hollywood's biggest names: prior to Arquette, she'd been romantically liked to Ryan Seacrest, Jesse McCartney and Paris Hilton's ex Doug Reinhardt.
FIRST PHOTOS: Courteney Cox Surfaces Sans Wedding Ring
Arquette told Stern he wasn't living with Waltz, "but I did have sex with her one time, maybe twice... my sexual encounter made me pretty feel manly."
Arquette told Stern that he'd stopped drinking for a month, but admitted he'd had a few drinks Monday night in the wake of his separation going public.
He told Stern he wasn't sure if Waltz had sold the story to the tabloids, but said it was irrelevant. He noted that she'd texted him in confusion as word spread of their involvement.
He said that the couple broke the news to their 6-year-old daughter Coco on the beach, and explained the separation to her delicately. He said when Coco asked if they were getting a divorce, they said they were trying to figure out what they want.
Article continues below advertisement
Prodded by Stern about the couple's sex life, Arquette admitted he hadn't slept with Cox for four months, and said his "sex with Courtney is scheduled to a certain degree, its methodical to a certain degree, and so full of love ... its so beautifully passionate."
As we previously reported, Cox and her hunky Cougar Town co-star Brian Van Holt have reportedly been spending plenty of time together on- and off-set, leading to speculation that Cox and Arquette had an open marriage.
Arquette said he knew Cox and Van Holt were involved in an "emotional affair" but was not aware if it had become physical. He added that "part of the terms of out separation was that I was allowed to see other people and so was she."
Prodded by Stern, Arquette said he'd never go after Cox's Friends co-star Jennifer Aniston, and that he'd never been attracted to her.
Arquette also said that he didn't have an issue with Cox's age - she's 46, he's 39. In fact, he said, she was more hung up on their age difference.