Exclusive
EXCLUSIVE: David Arquette's New Girlfriend Has Secret Drug Arrest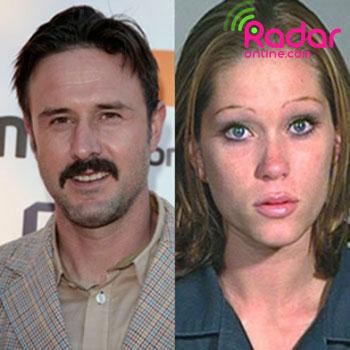 The woman David Arquette slept with while still married to Courteney Cox has a secret drug arrest, RadarOnline.com has learned exclusively.
Jasmine Waltz, a bartender and aspiring actress, hooked up with Arquette while his marriage unraveled, he revealed on the Howard Stern radio show Tuesday.
FIRST PHOTOS: Courteney Cox Surfaces Sans Wedding Ring
Now RadarOnline.com has discovered that while Arquette was spilling his secrets, Waltz has been busy hiding hers.
Article continues below advertisement
Waltz was arrested for possession of less than 20 grams of marijuana in Orange County, Florida in 2000, RadarOnline.com learned exclusively.
EXCLUSIVE DOCUMENTS: See Waltz's Drug Arrest Details
She pled nolo contendere and the court withheld adjudication. Oddly her plea and the court's decision took place on Jasmine's 21st birthday.
The charge was a first degree misdemeanor.
And while her new beau Arquette is wealthy, Waltz was so broke she was represented by a public defender.
RadarOnline.com learned through public records that she STILL owes the court money from the $458 fine that was imposed, and that the court has turned it over to a collection agency. The court put her on a payment plan of $38 a month but she didn't keep up with that.
The Orange County court also suspended her driving priviliges in Florida this year because she still owes them money – 10 years later!
Waltz was sentenced to two days in jail, but credited with time served. She was ordered to pay $458 and according to records obtained by RadarOnline.com still has a balance of $146.51.
Article continues below advertisement