Exclusive
EXCLUSIVE: Behind The Marriage Split - The Night Courteney Cox Didn't Go Home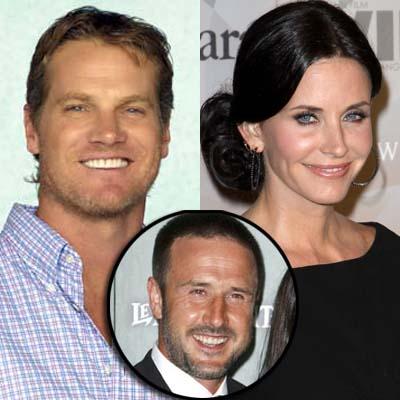 It was the night Courteney Cox chose to send her chauffeur driven limousine home, without her, and opt instead to spend it on the Cougar Town set with her hunky co-star Brian Van Holt.
In April this year, at the height of headlines romantically linking Courteney, 46, to Brian, 40, the former Friends star chose not to go home following an intense day of shooting, as had become the norm for the mother-of-one.
Article continues below advertisement
FIRST PHOTOS: Courteney Cox Surfaces Sans Wedding Ring
"The driver went there to get her to take her home but Brian (Van Holt) came out instead," according to one eyewitness, who spoke exclusively to RadarOnline.com.
"Brian dismissed the driver, telling him that she (Courteney) would be staying there, and that he didn't need to come back."
It was yet another instance that got tongues wagging on the ABC lot.
Instead, Courteney and Brian, who plays her affable ex-husband on the hit sitcom, escaped to the sanctuary of the actress' luxurious bungalow, RadarOnline.com learned.
"The talk on the set was that she and David had an open marriage," our on-set source told RadarOnline.com.
"David came to the Cougar Town set maybe four or five times over the course of the season, that's not a lot compared with other actors.
Article continues below advertisement
"Courteney spent a lot of her time on the set with Brian."
In a move that stunned Hollywood, Cox and Arquette - who married in 1999 after meeting while filming the 1996 thriller Scream - announced Monday they had separated, but remained "best friends and responsible parents" to their daughter six-year-old Coco.
In a statement, the pair said, "The reason for this separation is to better understand ourselves and the qualities we need in a partner and for our marriage."
Yet for Courteney's Cougar Town co-workers, the sudden split didn't come as much of a surprise.
"It was clear to those working on the set that something was going on with her marriage," the source told RadarOnline.com.
And on set, it wasn't always all-work-and-no-play for Courteney and her close companion Brian, who once commandeered a golf cart owned by the studio for a joy ride to a nearby bar.
"They just jumped in - basically stole it - and took off to meet friends across the street for drinks," an onlooker said.
Article continues below advertisement
"They seemed to have a lot of fun together... they were always chummy."
As RadarOnline.com reported, around the same time as the night Courteney didn't go home, she and Brian had been spotted dining together four times - with David nowhere in sight.
Reports of a strain in her marriage to David first surfaced in 2007 after the couple admitted to seeking couples' therapy to deal with the stresses associated with a relationship.