EXCLUSIVE PHOTOS: Heidi Busts Away From Spencer - Divorce Mystery Grows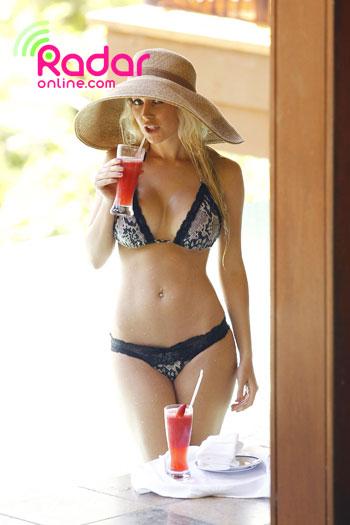 As the will-they-or-won't-they divorce speculation intensifies, Heidi Montag has chosen to drown her sorrows in the warm waters of Costa Rica.
RadarOnline.com busted the reality television star at her secluded beach resort, where she is still holidaying, on Tuesday.
Heidi peeled down to her lace bikini for our cameras, drank cocktails and even puckered up to her beloved pooch while in the pool.
This time, there was no sign of the bandage on Heidi's nose, which she revealed is used to protect her face after rhinoplasty surgery.
Article continues below advertisement
Heidi's estranged husband Spencer Pratt was also nowhere to be seen. As RadarOnline.com has previously reported, Heidi filed for divorce last month after only one year marriage.
While the couple supposedly has "irreconcilable differences", both are still seeing each other on the island paradise, fueling rumors they are actually still together and working to promote a sex tape.
In the meantime, the former Hills star continues to show off the full result of her ten cosmetic surgeries, although her new beach body isn't all that comfortable, as she revealed.