EXCLUSIVE PHOTOS: Heidi Montag A Bikini Babe In Costa Rica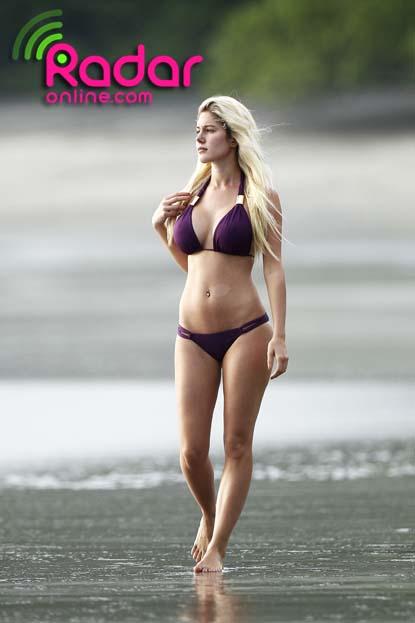 Even with a small bandage on her nose, reality TV star Heidi Montag looked like a million bucks in these new pics of The Hills beauty in a purple bikini at a Costa Rican resort Tuesday, and RadarOnline.com has all the pictures for you.
Montag last week said she's scouring South America for a doctor to perform a breast reduction surgery after her trusted surgeon, Dr. Frank Ryan, tragically died in an auto accident in Malibu last month.
Article continues below advertisement
Montag, 23, recently told Life & Style that she now regrets getting her breasts enlarged to G-Cups nine months ago. She says she's suffered both mentally and physically, and that she fears she won't be able to find a doctor as good as Ryan was.
"I feel trapped in my own body. There's just no fixing it," she told the magazine. "Dr. Ryan knows the work he did, he knows everything."
As for wearing a bandage on her nose, Heidi recently explained the reason for it, telling Life & Style, "Except for filming and a few photo shoots, I've had my nose tape on 24 hours a day since November. It takes a year for your nose to heal. This is just the first photo that anyone has seen of it.
"The last time I didn't wear tape after surgery and my nose changed shape," she said. "The tape is supposed to keep the swelling down and hold my nose in place the way Dr. Ryan sculpted it. Dr. Ryan always said I was his best, most cautious patient, and I'm not taking any chances now that he's gone. I don't want my face to fall off like Michael Jackson's."