Exclusive
EXCLUSIVE: Jesse James Ex Starting New Court Battle, Says She's Cut Off From Daughter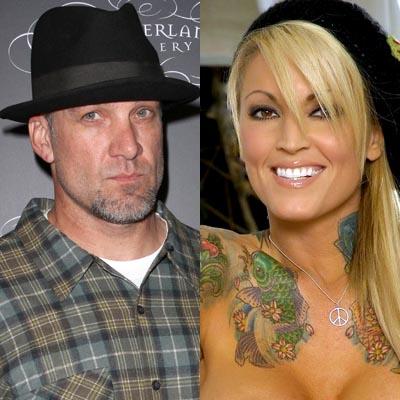 Janine Lindemulder is pushing for Jesse James and their daughter Sunny James to undergo a court-ordered evaluation – known as a 730 evaluation -- which could result in a change in the current custody conditions, she told RadarOnline.com.
Lindemulder was back in Orange County Family Court on Thursday for an emergency hearing after Lindemulder did not have any contact with her daughter for the past three weeks. James was not present but his lawyer was there.
Article continues below advertisement
Sunny is currently going to school and living with her motorcycle mogul dad in Austin, Texas, and Lindemulder believes that he is purposefully alienating their daughter from her while she remains in California.
Read Janine Lindemulder's full letter to Kat Von D
Lindemulder's lawyer Richard Masson told RadarOnline.com: "We are pushing for the 730 evaluation because quite clearly the conditions put in place by the court are not working here.
"It is Jesse James responsibility to make sure that Janine is afforded daily contact with Sunny via telephone calls and through pre-arranged visits and that is just not happening.
"The court recognizes the seriousness of the situation and we will continue to fight to make sure that my client has constant access to her daughter in a fair and safe environment."
In July, Commissioner Thomas Schulte ruled that both parents would have joint legal custody of Sunny, but that it was in the child's best interest for her to live in with her dad Austin.
Article continues below advertisement
Under the terms of the agreement, Lindemulder was supposed to have regular visits and contact with Sunny while she remained in California.
A 730 evaluation is a court ordered study of a family, its members and their relationship with the intent of restructuring parental rights and responsibilities concerning their children.
It is requested by parents or ordered by a judge when parties cannot decide on the best custody arrangements for their child.
A 730 evaluation is carried out by a mental health professional who recommends to the judge what they believe would be in the best interests of the child after interviewing all the parties and examining the interaction.
Janine told RadarOnline.com : "I'm pleased that the court saw this situation as an emergency and I will continue to fight against parental alienation.
Jesse James & Kat Von D Kissing
"Jesse has told Sunny that they will never move again and other personal details about me that no six-year-old needs to know.
Article continues below advertisement
"I'm Sunny's mom not Sandra Bullock or Kat Von D and I need to establish a loving bond with my daughter so that she can develop into a balanced adult.
"If need be I intend to pack up my truck and drive down to Texas to be beside Sunny. My message to Jesse James is quite simple: I'm not going away!"
In recent weeks James has started dating celebrity tattoo artist Kat Von D.
Lindemulder and James are scheduled to return to Orange County Family Court in October.