Exclusive
EXCLUSIVE: Janine Lindemulder Compares Kat Von D To A 'New Car' In Jesse James' Life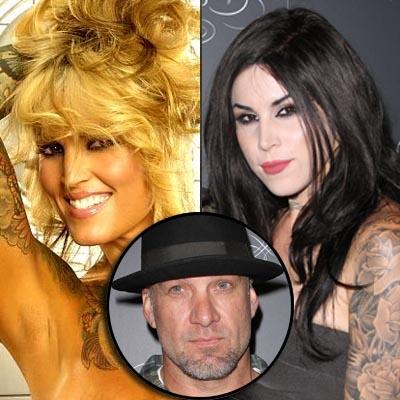 Janine Lindemulder has warned Kat Von D that Jesse James will quickly tire of her once the novelty of their romance wears off, RadarOnline.com is exclusively reporting.
Lindemulder, who will go back into Orange County Family Court Thursday to fight to regain contact with their six-year-old daughter Sunny James, even compared the celebrity tattoo artist to "a new car".
James' ex-wife, who has not had any contact with Sunny for nearly three weeks, claims that she's the victim of parental alienation by the motorbike mogul who now lives in Austin, Texas, with his family.
Article continues below advertisement
Read Janine Lindemulder's full letter to Kat Von D
Lindemulder told RadarOnline.com, "Kat is just like a new car to Jesse. Once he tires of being in the spotlight with her and climbing the ladder of success once again in his mind he will move on.
"I will move down to Texas if I have to re-establish a connection with my daughter. I want to stand-up for all the kids and other parents who are victims of parental alienation because that is what is happening in this situation.
"I'm not saying that I'm any angel, but Jesse is in contempt of court by not allowing me to have access to our child, and this is a pattern that has been going on for years now.
"My fear is that this is having a detrimental effect on our daughter and on my relationship with her, and I just hope that the Commissioner recognizes this in court today.
"I'm determined to stand-up for my rights for both myself and Sunny because Jesse just doesn't seem to care who he hurts in this whole situation."
Article continues below advertisement
Since his marriage to Oscar winner Sandra Bullock ended in divorce in late June, James moved his family to a new $2 million home in Austin, Texas, and has started dating L.A.- based tattoo artist Kat Von D.
As RadarOnline.com has previously reported, when Lindemulder heard of the relationship she wrote a letter to Kat requesting that she did not try and forge a relationship with Sunny too soon because of all the upheaval they had been through.
But this appeal apparently fell on deaf ears as Sunny has in fact met her father's new girlfriend. In moving to Austin, Sunny is now closer to Sandra Bullock who acted as a surrogate mom to her while Lindemulder was in jail for tax evasion.
She added: "It's unbelievable Jesse gets to flaunt his new girlfriend in Las Vegas and Hollywood, but I can't even get to find out who's looking after my daughter!
Article continues below advertisement
"At the end of the day I'm Sunny's biological mom and that has to count for something."
AUDIO: Kat Von D Defends Jesse James, Dances Around Romance Rumors
Back in July, Commissioner Thomas Schulte ruled that both parents would have joint legal custody of the girl, but that it was in the child's best interest for her to go with her dad to live in Austin.
Under the terms of the agreement, Lindemulder was supposed to have regular visits and contact with Sunny while she remained in California.