Exclusive
EXCLUSIVE: D.C. Housewife Mary Schmidt Amons Says The Salahis 'Stoop To The Lowest Of Lows'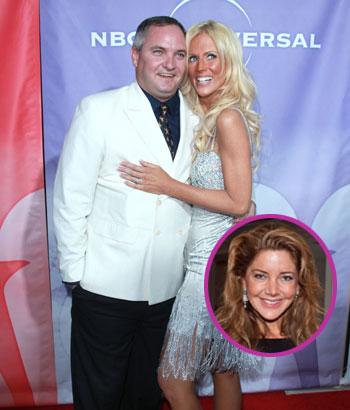 Tensions, tears — and Tareq — will dominate next Thursday's episode of the hit Bravo reality show Real Housewives of D.C.
In a teaser of episode five, the popular and classy cast-mate Mary Schmidt Amons breaks down in tears while at dinner at Tareq and Michaele Salahi's now defunct winery in Virginia.
Now RadarOnline.com can reveal the source of the high drama and why it has driven a major divide between the women of the series and the notorious White House 'gatecrashers'.
Article continues below advertisement
In the episode to air Thursday, Tareq accuses one of Mary's daughters of being linked to the theft of his personal belongings — polo gear — a claim the Washingtonian woman emphatically denies.
"It was very upsetting and disturbing to have your daughter falsely accused of something," Mary told RadarOnline.com, in an exclusive interview.
"What was so upsetting, they actually don't accuse her any crime, but being friends with someone who wronged them. She made a Facebook comment about whatever happened — it was a benign comment, which you will see.
"But it triggered a stomach-turning gut reaction because, in my opinion, this is stooping to the lowest of lows.
"I don't care if it was true or not, but the fact that these people decided to bring something up that 'apparently' occurred years ago and to link to my daughter, I think was unfair.
"To put this on national television speaks to their character."
While the Salahis seem to feed off of their infamy, their behavior has ostracized Mary and their co-stars Lynda Erkiletian, Catherine Ommanney and Stacie Scott Turner.
Article continues below advertisement
"I am still very close friends with Cat, Lynda and Stacie; we have developed quite the little bond," Mary dished to RadarOnline.com.
"Going through what we have this last year will either bring you together or drive you apart."
Asked if she still hangs out with the Salahis, Mary laughed, "No."
The granddaughter of radio and TV personality Arthur Godfrey, Mary's life has taken a "drastic turn" after the high-rating series Bravo premiered four weeks ago.
"My entire family is involved in the show, so we are trying to navigate how to handle being recognized in public," she said.
EXCLUSIVE DOCUMENT: Tareq Salahi's Run-In With Cops - Read The Police Report
"But it has been great for our family, a positive thing, it has brought us closer together.
"Overall, I think we look great as a family. We are very relatable and I am very proud of my family."
VIDEO: 'Gatecrasher' Tareq Salahi Defends Wife's Figure On Real Housewives Of D.C.
Article continues below advertisement
Before she was one of five Housewives, Mary was one of five founders of the District Sample Sale, an event that is billed as Washington's most fashionable charitable event which has donated almost a quarter-of-a-million dollars to charity.
This year's event — on Thursday, September 16 in Georgetown -- will ride high off the back of Mary's popularity and will be attended by all Housewives, except Michaele!
Article continues below advertisement