DC Housewife Michaele Salahi Denies Not Paying For Birthday Party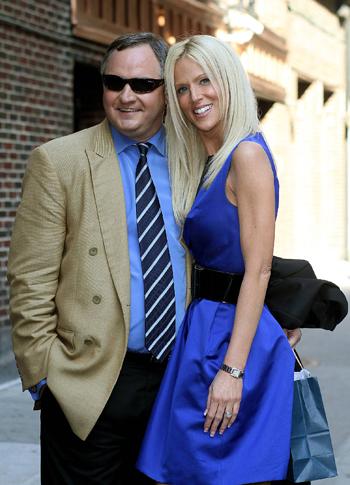 Michaele and Tareq Salahi, the controversial pair on the Real Housewives of DC, was the focus of another accusation: that they didn't pay a bill on the latest episode of the reality show.
Thursday's episode featured a birthday party for Paul Wharton, a friend of the housewives and a prominent character on the new show.  Michaele was one of the hosts of the party but claimed that she was only donating wine to the party, not footing any of the bill.
Article continues below advertisement
She took to her blog on Friday to explain her side of the story.  "As you can imagine, our attorney, who has seen us get used 100 different ways, only called Paul's publicist because he was concerned that The Park, Paul, or the production company was going to make it look like we didn't pay a bill, which never existed. Much of how we got portrayed was inaccurate in many ways, and is what was expected, but we stayed one step ahead of them just in case this may have happened. Our attorney contacted Charlotte Reid since she was Paul's publicist to make sure to keep it very clear to all parties what I was gifting to his night. I was happy to help celebrate Paul and his birthday and donate some wine. Gosh, good thing others saw through it. I didn't see that coming. Rise Above!"
Paul's publicist told him that the Salahis' lawyer wanted a signed document saying that they were NOT going to pay for the birthday party or they wouldn't show up!
The Salahis deny they were on the hook for any part of the bill even though Tareq is shown going over to a group at the party and saying "I hope you're all having a great time because I spent a lot of money on this party." Oops.
Michaele added on her blog: "I am troubled to discover Paul Wharton and Jason Backe's comments spreading more misinformation about my husband and me. Charlotte Reid (Paul's publicist) and Paul asked me to lend my name to be one of the four different co-hosts for his party. The other co-hosts were Erica Gutierrez, Mary Barth, and Charlotte Reid. At all times, they said the finances of the party were taken care of by Mark Barnes at his venue 'The Park.' I was still very happy to do my part and donate thousands of dollars of Oasis wines and some Champagne. I was happy to do my part with our wines from our vineyard for Paul Wharton's Birthday. In fact, Mark Barnes, who is a mutual friend, was also happy to host the night at The Park at no charge. We delivered in advance cases of our Red wine for the evening. Don't know why they are spinning it … just sayin' –- this is TV."
Tune into the Real Housewives of DC on Bravo Thursday at 10pm.
Related Stories: