Exclusive
EXCLUSIVE: White House Gatecrasher Trying To Cash In By Becoming A Barbie Doll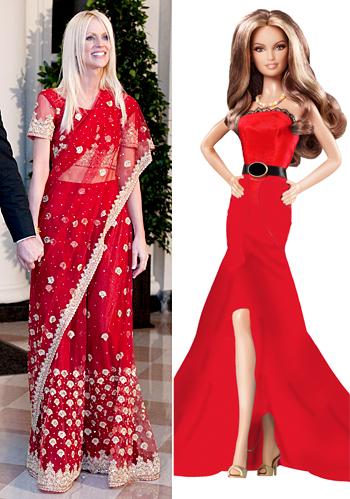 The fame-seeking Real Housewives of D.C. couple, the Salahis, plan to cash in on their White House Gatecrashing notoriety by turning Michaele into a Barbie doll, RadarOnline.com has exclusively learned.
While their lawyer is threatening to sue anyone who calls them White House Gatecrashers, the Salahis also want to turn their fame into fortune by releasing a Halloween costume.
Their secret plan is contained in marketing documents the couple has touted to prospective business partners, RadarOnline.com has confirmed.
Article continues below advertisement
Article continues below advertisement
While the Salahis portray themselves as part of Washington's social elite, rubbing elbows with the nation's power players, bankruptcy records show the couple lived well beyond their means.
WORLD EXCLUSIVE PHOTOS: Before President Obama, The Salahis Rubbed Shoulders With Royalty
A bankruptcy filing for Tareq's business, Oasis Enterprises, shows the company is more than $2.1 million in debt.
A 2004 Aston Martin, worth $150,000 and a $90,000 boat were repossessed, as part of the action. There were also unpaid bills for limousine service, tens of thousands of dollars in credit card debt and even unpaid parking tickets.