Exclusive
EXCLUSIVE: White House 'Gatecrashers' Considering Suing Whoopi Goldberg & The View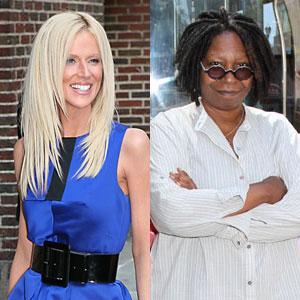 Michaele Salahi and Whoopi Goldberg could be set for another heated battle -- this time in the courtroom. The reality television star, who debuted Thursday on The Real Housewives of D.C., is so upset at being branded a 'gatecrasher' on-air during Wednesday's episode of The View, she is considering suing for defamation.
The Salahis' lawyer Lisa Bloom told RadarOnline.com that the celebrity-seeking couple Michaele and Tareq are considering their legal options.
Article continues below advertisement
"I believe she was defamed," Bloom told RadarOnline.com.
"She was branded a 'gatecrasher' five times and was even told she should go to jail.
"My client is not a criminal and she has not been charged by anybody for any crime.
"You can't call someone a rapist or a murderer when there are no charges against them. So why is it OK to defame my client?"
During the controversial episode, Whoopi also came on the set during Michaele's appearance to urge her to talk more about the night she and her husband 'crashed' President Barack Obama's state dinner last fall.
Article continues below advertisement
VIDEO: Whoopi & White House Gatecrasher Clash Backstage At 'The View'
Then after the show, a shouting match between Michaele and Whoopi erupted, during which the Real Housewife said the co-host left her in tears after screaming, 'F*** this, f*** that, Did you say I F***ing hit you?'.
The View spokesman Karl Nilsson said the backstage altercation began after Salahi supposedly accused Goldberg of hitting her on the show.
He called the charge completely unfounded.
But Bloom says her client never said Goldberg hit her, but that Salahi had been startled by her.
The Salahi's slaywer says she had seen the invite to the state dinner at the centre of the 'gatecrashing' furore, even though the supposed document, if it exists, has never been released.
Said Bloom, "She has been branded the White House "gatecrasher" and when she went on The View, Whoopi seemed determined to stick it to her.
Article continues below advertisement
"Throughout the whole interview, Michaele kept her composure even though they called her a party crasher five times... she remained dignified despite the verbal tirade."
On Thursday's The View, Whoopi refused to apologize.
"I make no apology for my choice words... her husband got in my face, had his BlackBerry out and started taking pictures of me," she said.
"Needless to say I really went off then and there were even more choice words. They were so choice you could have cut them with a knife and eaten them.
Said Bloom, "Whoopi had the opportunity to make things right today and The View missed an opportunity to correct themselves.
"Instead they decided to pile on more abuse and act defensively; they were smirking and rolling their eyes and that was very disrespectful.
"My client is a sweet person who has done nothing wrong and somebody should take responsibility for this."