American Idol's New Judges - It's J-Lo, Steven Tyler & Randy Jackson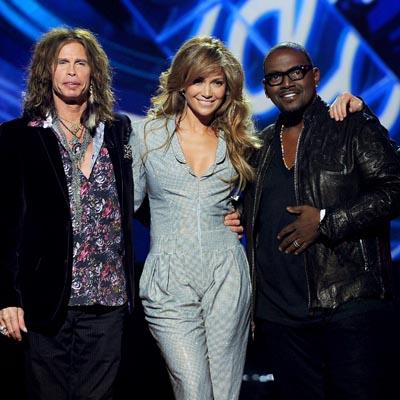 Ryan Seacrest Wednesday officially announced that music superstars Steven Tyler and Jennifer Lopez will join judge Randy Jackson to compose the revised three-person panel for Fox's smash hit variety show this upcoming season.
Moments after introducing Tyler, Seacrest asked him why he wanted to join Idol, to which the legendery rocker responded, "It's being a part of something much bigger than yourself, and I'm going to bring some rock to this rollercoaster."
Article continues below advertisement
In announcing Jennifer Lopez, the Jenny From The Block singer made a grand entrance through a thick plum of smoke, and told the audience, "I love you guys. I'm so excited to be here, and to watch you grow."
Lopez added, "It's about concentrating on the moment. You just have to concentrate on the moment, and just live, live."
She then added, "I'm looking for the next Michael Jackson. We're looking for the best American Idol ever. I'm so excited."
At a news conference after the official announcement, Tyler said, "I plan on being honest, but killing them with love."
Talking about the judges, Jackson said, "I think they'll bring a lot of flavor to it."
Wednesday's announcement seals off a tumultuous two years of personnel changes, buoyed by the homecoming of the program's original producer, Nigel Lythgoe.
Article continues below advertisement