EXCLUSIVE PHOTOS: Snooki's New Boyfriend Frequented 'Swingers' Parties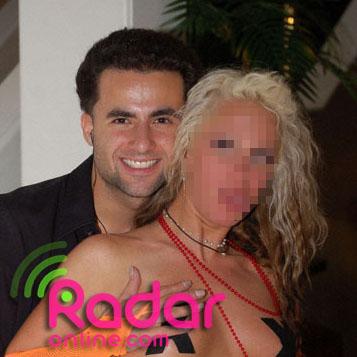 Jersey Shore star Snooki Polizzi's new boyfriend Jeff Miranda may have publicly confessed his 'true love' for the pint-sized reality star with a magazine cover proposal, but RadarOnline.com has learned that the former Iraq veteran likes to share the love.
Super slick Miranda, 24, used to allegedly frequent a private swingers club, according to sources close to him.
Our shocking photographs show Miranda cavorting with several scantily clad women, pouring tequila and salt over one topless sexy model's body and acting inappropriately with several other women.
Article continues below advertisement
His seedy past is sure to put major doubt in Snooki's mind about her new 'juicehead' who replaced Emilio Masella as the love of the MTV star's life.
A former friend of Miranda told RadarOnline.com: "The guy is a total fake and Snooki better watch-out."
The friend adds, "He is interested in curvy model types - the fact that he's dating her is just a joke because she's totally not his type and he doesn't have any true feelings for her.
"Worse still he has a real Jekyll and Hyde type personality and I've seen him really lose it with another girlfriend in the past."
Wannabe actor Miranda - who likes to call Snooki by her real name Nicole - has been running a video production company while trying to get his own clothing line off the ground.
But he used to be a promoter at the hip Mansion Nightclub in New Jersey where he helped-out promoting all kinds of events back 2008.
Article continues below advertisement
During this time the club was reportedly hired-out to MinxStyle - a private swinger's club - on quieter nights and Miranda attended these X-rated events.
And once the racy parties got into full swing, Miranda loved to cavort with scantily clad beauties and used to love to cozy-up to all kinds of women who attended the private club nights wearing figure hugging and revealing outfits.
The source revealed: "They used to have private swinger's parties on off nights at the club and there was a lot of risky behavior with people often pairing off and heading to hotels together afterwards.
"Jeff loved these parties and he really saw himself as a 'ladies man'. His favorite party trick was to pour alcohol on naked bodies of women and then lick it off.
VIDEO & PHOTOS: Jersey Shore Girls Cause Mayhem In Miami!
"But he had a real jealous streak too. One time a girlfriend of his was getting some attention from a male stripper at another event and he went completely mad and totally flipped like a crazy person.
Article continues below advertisement
"He loved to try and impress people and would tell them that he was 'in the mob' and that he was 'a made guy' with the mafia but nobody believed a word that came-out of his mouth.
EXCLUSIVE INTERVIEW: Snooki's New Man Opens Up, "I Don't Care About The Cameras"
"The guy was always obsessed with becoming famous and was mad when his audition for Jersey Shore was not successful.
"But he has somehow managed to get close to Snooki even although she's totally not his type and a lot of people close to her are really concerned.
"He recently got involved in a war of words with her former boyfriend Emilio Masella but the truth is she would have probably been better off staying with him and not hooking-up with Jeff Miranda."
Calls to Miranda on Monday went unanswered.
Miranda is quickly learning the pitfalls of a profile existence.
As RadarOnline.com revealed exclusively, one of Miranda's ex-girlfriends also  put out a restraining order against him last year for allegedly physically assaulting her and threatening her life.
Article continues below advertisement