Exclusive
EXCLUSIVE: Snooki's New Boyfriend Revealed; He Turned 'Guido' For Pint-Sized Star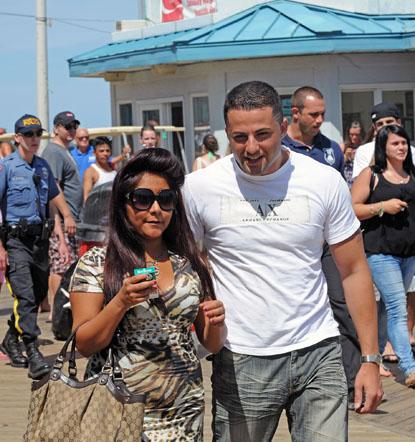 Article continues below advertisement
NEW PHOTOS: J-WOWW Caught Smooching New Man
And it looks like after a number of failed romances Snooki - real name Nicole Polizzi - has finally found a man who appreciates her.
"People no more Snookie (sic) talk," Jeff wrote on Facebook, after RadarOnline.com first published the photos of the pair canoodling on a ride at the Jersey Shore.
"Her name is Nicole by the way. All I'm saying is we had a great time together.
"She is an amazing girl and couldn't ask for any more or less.
"I am not making any further comments about Nicole and myself. When the time is right you will be updated."
RadarOnline.com has learned the couple spent the entire weekend together getting to "know each other", according to one of Jeff's pals.
While Jeff might be alluding to the fact that he wants to keep their relationship on-the-low, his friends thinks differently and says he could have other motives.
Article continues below advertisement
"I've known Jeff for a long time and the guy is a player," a source tells RadarOnline.com
"This whole Guido thing is something totally new.
"He's become a gym rat and hooked-up with Snooki to get popularity and fame. Let's face it, the guy wants to be a star."
On Facebook, Jeff describes himself to be "crazyyy as motha f*****!!!" and says "you only live once so gotta make the best of it."
It sounds — and looks — like it could be love at last for Snooki, recently broke up with boyfriend of two months Emilio Masella after suspecting he was cheating on her and using her to become famous.