Snooki & Senator John McCain Form An Unlikely Bond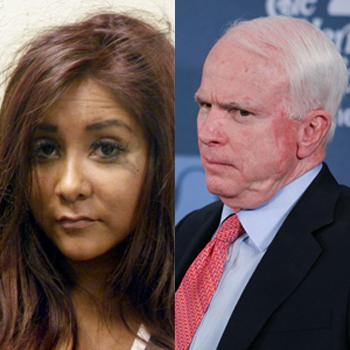 Jersey Shore's Snooki's has friends in high places.
It was just a month ago that Snooki and Arizona Senator John McCain Tweeted their woes about a 10% percent raise in tanning bed taxes and RadarOnline.com has learned their unlikely friendship continues, as Snooki tweets the former presidential candidate again.
"Thanks for having my back! I'm going to make you part of my family. Grandpa Snooki for president," Snooki Tweeted Thursday.
Article continues below advertisement
EXCLUSIVE: Snooki Nude Photos For Sale
Her tweet came in response to an interview McCain did with KMLE radio in Pheonix, Arizona where he commented on the reality star's recent disorderly conduct arrest.
"I kind of think she might be too good looking to go to jail," said McCain said Wednesday during his interview.
McCain's flattering comment might be in response to a Snooki's endearing statement she gave Meghan McCain during a Daily Beast interview in July.