Exclusive
EXCLUSIVE: Snooki's Jealous Ex-Boyfriend Wants To Fight Vinny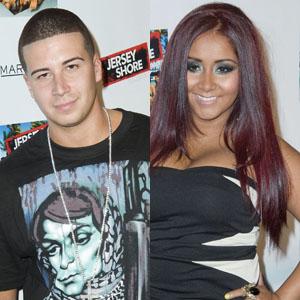 Snooki's ex-boyfriend is one viewer who didn't enjoy the latest episode of MTV's smash hit Jersey Shore.
In the most recent show, a drunk Snooki climbs into bed with castmate Vinny Guadagnino, and that has her ex-boyfriend Emilio Marsella seeking revenge, he told RadarOnline.com exclusively.
"I am pissed, we were friends and he was messing with my girl when I was with her, that's not cool." Emilio told RadarOnline.com. "I'm so angry I want to fight him."
Article continues below advertisement
The couple were still dating when the Jersey Shore episode featuring Vinnie and Snooki was filmed.
"I mean I just said goodbye to her a couple of days before it was shot and she climbed into his bed," Emilio told RadarOnline.com. "I was devastated."
EXCLUSIVE: Snooki's Arrest No Surprise To Ex-Boyfriend: "She Doesn't Know When To Stop"
Emilio met Snooki in January after the first season of the hit reality show and the pair were insperable. But in April Snooki accused him of being unfaithful.
"She always accused me of cheating and I never did," he said. "And now I had to watch her on national TV doing it."
Heartbroken Emilio adds, "I don't deserve this, I'm a sweet guy and I don't believe in cheating."
Emilio wants a shot at Vinny – but he's willing to turn their fight into a charity event.
"I want to box him, I'll do it for a good cause, we can do it for a charity," Emilio told RadarOnline.com. "I'm going challenge him to a charity boxing match.
"I want to raise money for the Chile Earthquake relief fund. I am so in love with her I want to do something for Snooki."