EXCLUSIVE: Emilio Caught Snooki Cheating On Him By Watching Show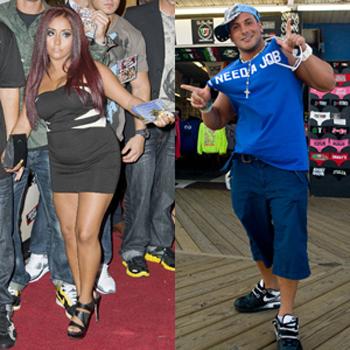 Last week, love sick Emilio Masella flew 3,000 miles back to the Jersey Shore in a desperate attempt to win back ex-girlfriend, Snooki.
But in an exclusive interview with RadarOnline.com, Emilio revealed that after seeing her climb into bed with castmate Vinnie Guadagnino on a recent episode of MTV's Jersey Shore he is having second thoughts.
"I can't believe Snooki cheated, I was so upset by what I saw last night on the show and now I'm thinking maybe I should just leave the Shore," he said.
Article continues below advertisement
"I don't' give second chances to cheaters. I'm a sweet kid why would she do this to me?
"From the looks of things she might have slept with Vinnie. I can't believe I flew all the way across the country to win her back."
EXCLUSIVE: Snooki's Arrest No Surprise To Ex-Boyfriend: "She Doesn't Know When To Stop"
RadarOnline.com reported that thanks to the help of pal Spencer Pratt, tough-guy Emilio dashed across country to be by Snooki's side following her July 30 arrest.
"I've been here all week and it's getting expensive. Spencer told me if I was going to stay I better get a job," added Emilio
"Spencer and I stopped shooting Fist Pumping for Love because it was just meaningless hook ups and I love Snooki!"
But now he is beginning to wonder if his heartfelt actions are a waste of time.