Exclusive
EXCLUSIVE: Snooki's Scorned Former Boyfriend: "My Ex Is A Wh*re!"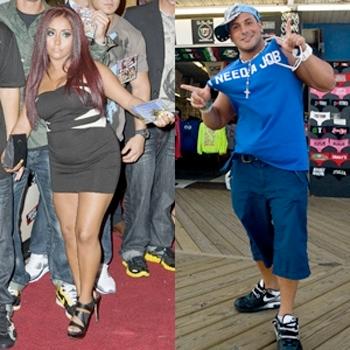 A "humiliated" Emilio Masella, Snooki's ex-boyfriend, has labeled his one-time lover a "whore" after she was caught on camera groping and propositioning co-star Vinny for sex.
Emilio exclusively told RadarOnline.com: "How could she do this to me? I feel like a fool trusting her... My ex is a whore!"
In the episode, which aired Thursday, a drunk Snooki called Emilio at 6 in the morning as she simultaneously groped Vinny Guadagnino.
Article continues below advertisement
NEW PHOTOS: J-WOWW Caught Smooching New Man
The pocket-sized reality star then followed Vinny back to his room and asked, "Wanna f**k ?" to which he replied, "Sure."
The pair woke up in the morning and claimed to have no idea what had happened the night before.
"Did I bang Snookie last night?" asked Vinny. "Did I do the unthinkable?"
Not soon after he watched the episode, in front of hundreds of people at a Connecticut nightclub, Emilio told RadarOnline.com he confronted Vinny.
"I called Vinny at the Seaside Heights house and asked him if he f***ed my girl," the "gorilla juicehead" told us.
"He hung up on me, so I called back and asked him again but he is such a sissy, he passed me to Jenni (J-WOWW).
"He did that because his mommy wasn't there!
"Jenni told me she was going to call the police if I called there again and I told her she was a wh*re too because she cheating on Tom (Lippolis)."
Article continues below advertisement
Snooki and Emilio split in between seasons one and two amidst her suspicions he was using her to get his own television show.
But as RadarOnline.com revealed, Emilio decided to attempt to win back Snooki's heart and returned to the Seaside Heights boardwalk in a pink shirt and bandana, giving free hugs to everyone in the hope his ex would see him and notice.
Snooki didn't even see him and left a nearby club with another man.
Now Emilio has been left stung by the Vinny sex revelation.
"I am doing an appearance at a club tonight (Thursday) and there are about 400 people here watching Snooki humiliate me on a huge screen.
"People are apologizing to me and offering to buy me shots.
He added, "But I can't believe it... I never cheated on her and never would... It was Snooki who always accused me of cheating."
EXCLUSIVE: Snooki Nude Photos For Sale
radar_embed service=5min.com src=" http://pshared.5min.com/Scripts/PlayerSeed.js?sid=1126&width=486&height=412&playList=517707702&sequential=1&shuffle=0"