Exclusive
EXCLUSIVE PHOTOS: Snooki's New Beau Caught With Strippers Amidst Breakup Rumors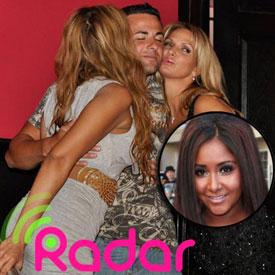 The same day RadarOnline.com reported that his romance with Jersey Shore's Snooki had hit a road bump, Jeff Miranda was spotted living it up at a New York City strip club.
Stopping in at the Sapphire Gentlemen's Club on Wednesday night, Miranda was interviewed by Chaunce Hayden for his Shovio.com web-TV broadcast, Steppin Out of the Tabloids with Chaunce Hayden, live from 8 to 9pm. While at the club Miranda spent some time with porn star Savanna Samson and Penthouse Pet Anju McIntyre - in fact both girls were fighting over Snooki's boyfriend!
Article continues below advertisement
"Miranda did little to resist and was seen canoodling with Samson after the show," a source told RadarOnline.com exclusively.
Jeff soon found himself in the middle of every man's fantasy when Savanna and a Penthouse pet Anju McIntyre started fighting for his attention.
"It got ugly!" added the source.
In an exclusive interview with RadarOnline.com, Jersey Shore co-star Angelina Pivarnick said Snooki and Miranda recently "got in a huge fight" and that Miranda told Angelina that, "something happened between him and Snooki and he feels terrible about it."
Angelina told RadarOnline.com that she feels Miranda was only interested in Snooki "for the fame" and made passes at several other girls, including Angelina herself! He also "never told Snooki that he tried out for Jersey Shore and now she's found out and she thinks he dated her for the fame."
EXCLUSIVE INTERVIEW: Snooki's New Man Opens Up, "I Don't Care About The Cameras"
RadarOnline.com reached out to Miranda who defended himself, and called Angelina's allegations false: "Look, people are trying to hate. They're trying to ruin things between us. These accusations are false. All I want is to be happy. Nicole is a sweet girl. She considers everyone else first before she thinks of herself. I care about her a lot."
When it comes to Angelina's claims that he tried out for Jersey Shore, Miranda admitted, "It is true that four months ago I received an email asking me to send in an audition tape. And I did. I admit, I did try out for the show."
However, he stopped short of saying where their relationship was currently at. "Due to confidentiality, I can not talk anymore about my relationship with Nicole at this time. That may change but for now I can't make any further comments about Nicole or anyone else on the show."