Exclusive
EXCLUSIVE INTERVIEW: Snooki's New Man Opens Up, "I Don't Care About The Cameras"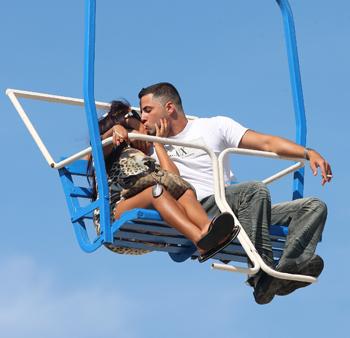 While only time will tell how this latest reality TV relationship will pan out, Snooki's new beau Jeff Miranda is taking the pro-active approach, opening up to RadarOnline.com about his intentions, their budding relationship, and how the other castmates are treating him.
NEW PHOTOS: J-WOWW Caught Smooching New Man
"We're having a great time together. I just want me and her to be happy together," Jeff told RadarOnline.com during an exclusive interview.
Article continues below advertisement
While his dream "is doing movies" ("I have the gift. I've always been the funny guy in the group and I'm good at acting," he said), he wants to make clear that Snooki is not simply a means to an end.
"I want people to know me for me. I'm a good guy and want to make it on my own," he added. "I'm not using Nicole for that. I want to make it on my own. I'm a man and I've got what it takes to make it."
In fact, Jeff claims: "I don't care about the cameras. It's about me and her."
Though he is the new kid on the block, his reception from the other housemates of the Jersey Shore house has been a warm one.
"Pauly is happy for us and even gave us his blessing. He told me to treat her well," Jeff revealed. "He also told me that Nicole is a good woman and won't hurt me. And trust me, I won't hurt her. I like Pauly, he and I get along good."
There is still one holdout from the group however.
"Everyone else on the show seems to be cool with me except for Vinny. I don't know what that's about though."
Before he makes his big screen dreams a reality, Jeff is making a living as part owner of Full Armor Clothing and as a graphic designer.