Exclusive
EXCLUSIVE: Snooki's New Man To Meet The Parents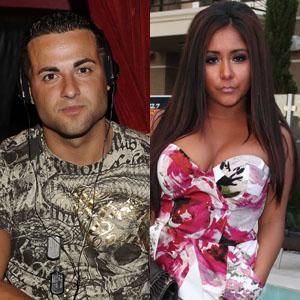 Jersey Shore's Nicole "Snooki" Polizzi and her new buff boyfriend Jeff Miranda are taking their romance to the next step. RadarOnline.com has exclusively learned that Miranda is soon to meet Snook's parents!
"There are plans for me to meet Snooki's parents in the near future," Miranda tells RadarOnline.com.
EXCLUSIVE: Snooki's New Boyfriend Revealed; Turned 'Guido' For Pint-Sized Star
RadarOnline.com exclusively broke the news of Snooki and Jeff's new relationship earlier this month. "She's a great girl and anyone would be happy to date her. I'm the luck one. I just want to make her happy."
Article continues below advertisement
The Snookster was born in Chile, of Italian-Chilean descent. She was adopted by an Italian-American couple and raised in the U.S.
Following her arrest for disorderly conduct last month, she admitted that her father had voiced his disapproval.
"My Dad Was Very Pissed" About My Arrest Says Snooki
We'll have to wait to see what Dad thinks of his daughter's new guy, but Miranda says he does not want anyone come between he and Nicole, including her jealous ex, Emilio.