Jersey Love Triangle? Snooki's Ex Slams Her "Ugly" New Boyfriend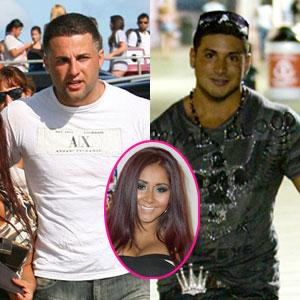 Jersey Shore's Nicole "Snooki" Polizzi has a new fella -- and her last one is none too happy about it.
As RadarOnline.com previously reported, the reality star was spotted with Iraq veteran/ Millstone, New Jersey native Jeff Miranda romantically walking on the Jersey Shore this past weekend.
EXCLUSIVE: Snooki's New Boyfriend Revealed; Turned 'Guido' For Pint-Sized Star
"I do not care about Snooki's latest hookup I feel bad she has to downgrade herself while i'm upgrading "Hes ugly" Just sayin, she loves me," Snooki's sexy ex, bodybuilder Emilio Antonio, Tweeted Monday.
Article continues below advertisement
Miranda, 24, briefly spoke about his budding relationship with the 22-year-old reality TV star on his Facebook page after we published new pics of the lovebirds walking on Snooki's stomping grounds.
"People no more Snookie (sic) talk," he wrote. "Her name is Nicole by the way ... All I'm saying is we had a great time together ... She is an amazing girl and couldn't ask for any more or less. I am not making any further comments about Nicole and myself. When the time is right you will be updated."
Snooki dated Antonio for a few months following the rise of Jersey Shore, but called it quits after a few months out of concerns Antonio was cheating on her, and using her fame to become famous himself. Antonio has since forged a business relationship with Hollywood bad boy Spencer Pratt.
New episodes of Jersey Shore air on MTV Thursdays at 10/9c.