Snooki: "My Dad Was Very, Very Pissed" About My Arrest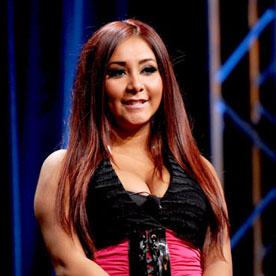 It took her father being "embarrassed" to make Nicole "Snooki" Polizzi decide to cut back on her drinking, RadarOnline.com has learned.
"My dad was very, very pissed," Snooki said of how her adoptive father responded to her July 30 arrest for disorderly conduct.
Speaking to reporters at the bi-annual Television Critics Association convention, Snooki revealed that Papa Snooks, as her dad is known, said to her, "I didn't raise you like this."
Article continues below advertisement
That really hit home for the Jersey Shore star.
Snooki's Arrest Report
"I just felt really bad," Snooki said. "I'm definitely going to stop drinking during the daytime. I learned that I need to calm down with drinking."
Heavy drinking has long been part of Snooki's partying life.
As RadarOnline.com exclusively revealed, when she was 16 years-old, a schoolmate left a party at her house and died when he crashed his car on his way home. The teen, Michael Truncali, was found to have a blood alcohol level of .18. Snooki was charged with selling alcohol to minors because she'd charged admission to her party. She was a minor at the time so the record is sealed.