Exclusive
EXCLUSIVE INTERVIEW: Snooki's New Man To Her Ex: 'You Need You Keep Your Mouth Shut!'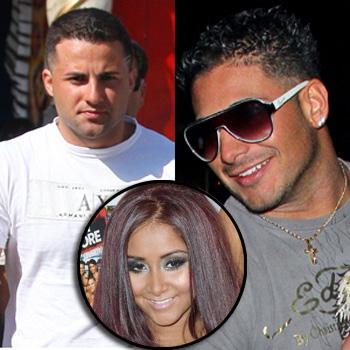 Harsh words are flying across the Jersey Shore as Nicole "Snooki" Polizzi's new man and her ex-boyfriend Emilio Antonio fight for the reality star's affection.
In an exclusive interview with RadarOnline.com, Jeff Miranda, an Iraq veteran and the new man in Snooks' love life, shares his feelings for her ex and has some advice for the ex-bodybuilder.
"He better stop talking s**t about Nicole and me," Miranda says, because "he has no right to open his mouth."
Article continues below advertisement
He adds, "That dude is a cheater."
Miranda is firing back after Snooki's ex Tweeted these words this week: "I do not care about Snooki's latest hookup I feel bad she has to downgrade herself while I'm upgrading "He's ugly" Just sayin', she loves me."
Miranda says Emilio is jealous and just needs to move on.
"Nicole doesn't like him and I don't like him," he tells RadarOnline.com.
"He's a 4'11' juice head and needs to find a girl who likes him for his short comings."
But Miranda may want to tone it down as his number with Snooki may soon be up as well.
As RadarOnline.com previously reported, former Jersey Shore cast mate Angelina Pivarnick told RadarOnline.com that Snooki and Miranda recently "got in a huge fight" and that Miranda told her "something happened between him and Snooki and he feels terrible about it."
When Miranda was asked about Angelina's claims he said, "People are trying to hate. They're trying to ruin things (between us)."