EXCLUSIVE: Fantasia Fallout - Oprah Wants Ditched Wife Paula Cook On Her Talk Show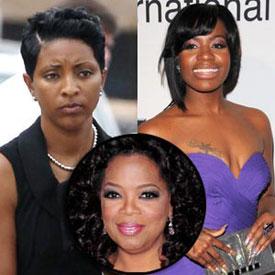 Oprah Winfrey has reached out to Paula Cook to talk about how American Idol star Fantasia Barrino stole her husband, RadarOnline.com has exclusively learned.
Paula - whose husband Antwaun Cook allegedly left her and their two sons for the Grammy nominated singer - is still considering Oprah's offer and has also been approached by Oscar winner Mo'Nique to appear on her talk show too.
And while Fantasia has now opened-up about her botched recent suicide attempt, Cook has taken a leave of absence from her teaching job while she considers her options.
Article continues below advertisement
A source told RadarOnline.com: "Paula has been approached by Oprah's people to go on her chat show. She still hasn't decided what she will do though, and she was also approached by Mo'Nique too.
"There was also the chance for her to appear on a new reality show about spurned women, and she's considering another option to write a book about the whole Fantasia saga.
"At the moment she is weighing up all these offers and is just taking time out to look after her sons.
"She has been allowing Antwaun to spend time with the boys although she is becoming more resigned to the fact that their marriage is definitely over now.
"Despite anything that Fantasia may say about Antwaun being separated from his wife when she started dating him, Paula firmly believes that she knowingly got involved with a married man."
Barrino - whose new album Back To Me is out Tuesday, August 24 - opened-up to People about her recent suicide attempt.
Article continues below advertisement
"I didn't have any fight in me. I didn't care about anything. I just wanted out," Barrino, 26, reveals.
"At that moment, I wanted out. I wanted it to be over with -- all of it, all of that expletive."
In the new interview, Barrino goes in-depth about her actual attempts at self-destruction.
She reveals: "I just sat in the closet and looked at the mirror and took all the pills in the bottle,"
"I wanted to go to sleep and just be at peace. I knew exactly what I was doing. You can't accidentally take a whole bottle of pills."
Barrino said she tried to kill herself because she "was tired of people doing me wrong, constantly, over and over again, dealing with my family -- my father, dealing with men and their expletive -- I was tired -- my head was hurting me. I was over it."
She also talks about her relationship with Cook, and the misconceptions she had going into it.
"When I met him, he was separated ... he wasn't living in his home," she said. "He didn't want to be back with his wife -- that is what I was told. I remember waking up in the hospital and thinking to myself, 'It didn't work, I'm still here in this hellhole. Still here with all this drama going on."