Blackouts & Blood Clots! Hillary Clinton's Secret Multiple Sclerosis Crisis REVEALED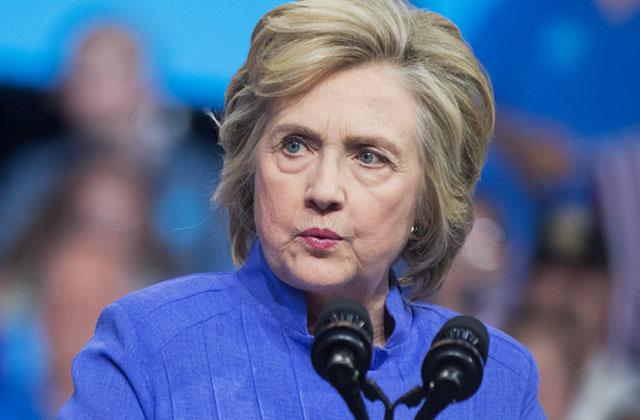 Article continues below advertisement
Multiple sclerosis, an autoimmune disease, afflicts 2.5 million people worldwide and can affect the brain, spinal cord and other areas of the body.
Early symptoms of the disease include weakness, tingling, numbness and blurred vision. Thinking problems and urinary troubles can also result, as can muscle stiffness.
Loss of balance can be another symptom — and Hillary has a history of blackouts, falls, memory loss, vision problems and collapses dating back at least 10 years.
Article continues below advertisement
In 2005, she fainted at a luncheon during a speech in Buffalo, N.Y. When she was secretary of state in 2009, she suffered a mysterious fall in a U.S. State Department garage, breaking her right elbow.
In 2011, she collapsed while boarding a flight in Yemen — but later claimed she'd only "slipped."
More recently, Hillary was photographed needing help as she climbed porch stairs while on the campaign trail.
In December 2012, she suffered a concussion from a fall requiring her to be hospitalized for three days.
GOP strategist Karl Rove later ignited a firestorm when he asserted that Hillary had suffered brain damage from that fall.
Hillary also suffered two deep-vein blood clots — one in 1998 and the other in 2009 — and she still takes the blood thinner Coumadin, as well as antihistamines, which can lead to weight gain.
Article continues below advertisement
Chillingly, New York internist Dr. Stuart Fischer said the pressures of the presidency could "worsen her neurological problems quickly."
Sources also accuse Hillary of going on booze binges following troubles over emails she sent and received on a private email server while secretary of state.
They claim boozing will worsen her symptoms of depression.
Meanwhile, Hillary has been putting on a brave face publicly, trying to hide her MS from voters.