Dr. Drew Claims Hillary Clinton's Health Issues Are 'Serious' After Reviewing Her Records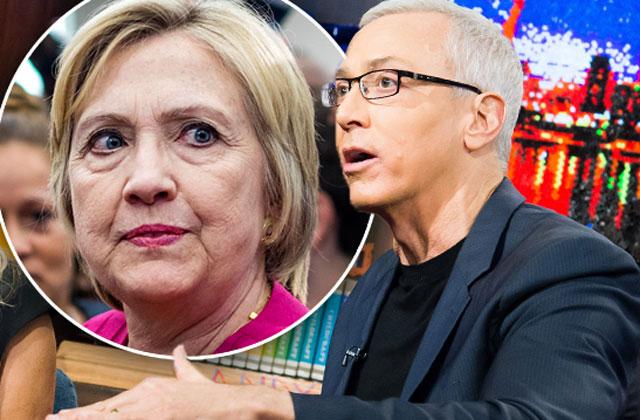 Hillary Clinton's ongoing health issues are "serious," TV's Dr. Drew claims, and he is "gravely concerned!"
The media personality gave his expert opinion on morning radio show McIntyre in the Morning this week.
Dr. Drew said he and a colleague, Dr. Robert Huizenga, analyzed Clinton's medical records and revealed, "Both of us concluded that if we were providing the care she was receiving, we would be ashamed to show up in a doctors' lounge."
Article continues below advertisement
But even more disturbingly, Dr. Drew said Clinton is on old-fashioned medications to treat her conditions.
"We took a look at her record," he said. "And here are the basic facts. She had two episodes of what's called Deep-Venous Thrombosis. Common problem. Blood clots in the leg. She also has hypothyroidism, and she'd been treated for hypothyroidism with something called Armour Thyroid, which is very unconventional and something that we used to use back in the '60s. And both he and I went, 'Hmmm, that's weird.' And by the way, wow, Armour Thyroid sometimes has some weird side effects."
Dr. Drew said brain damage could be affecting her balance. And he claimed that when Clinton's doctors checked her for heart disease, they "did an old-fashioned screen."
He said, "it just seems like she's getting care from somebody that she met in Arkansas when she was a kid!"