Busted! Brittany Dumps Jax After He Admits He Cheated On Her With Faith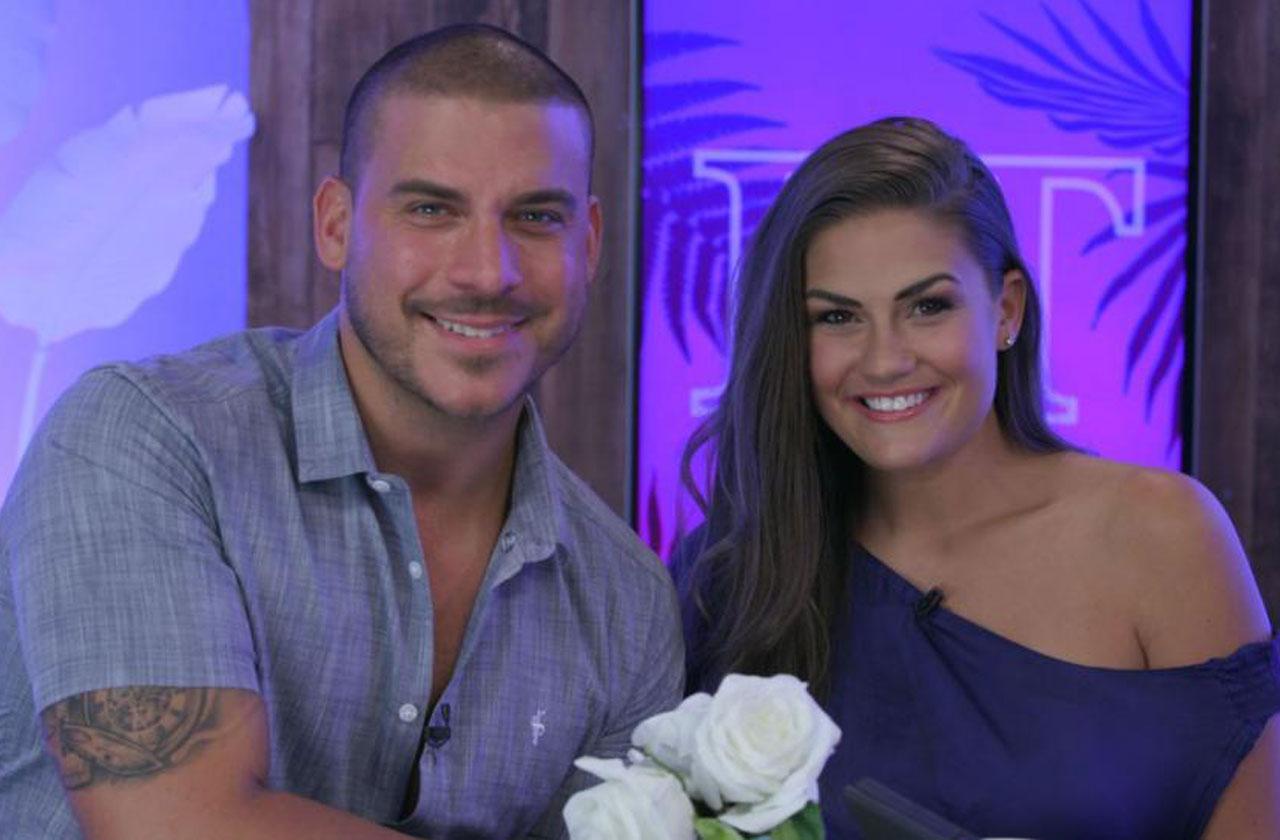 Some people never learn! The most recent episode of Vanderpump Rules began with Brittany Cartwright telling Jax Taylor that she would "punch him in his f**king fake nose," if he really did cheat on her. To fans' surprise, the explosive feud ended with her dropping a major bombshell about the status of their relationship.
The group ratted out Taylor, telling his livid girlfriend that he had, in fact, had sex with Faith Stowers at Sheana Marie's birthday party.
Article continues below advertisement
"He was telling me that he was leaving her, that he was done," Stowers said before storming away at the party.
"I just don't know what to believe," Cartwright wailed while Lisa Vanderpump called Taylor out. "I never believe with anything that starts with 'I heard,' because invariably it isn't true. But when it comes to Jax Taylor, invariably it is."
Stowers then told James Kennedy that her period was late and that she could be pregnant.
Taylor was adamant that he "never cheated on Brittany," who was crushed by the accusation. "I really liked knowing I was the one that changed Jax Taylor," she said. "If this is true I'm going to punch him in his f**king fake nose."
Cartwright popped over to her visit neighbors Katie Maloney and Tom Schwarz, revealing to them the drama from the party. "I'm so embarrassed. If he's going to do it with Faith, someone that I know, who else would he do it with?" she said.
Article continues below advertisement
"I've always had gut feelings that he's done stuff. I've been home and there are fake eyelashes on the counter!" she told Maloney, adding that she was heading out of town to party with her friend Cara in Vegas.
Before she could leave, however, Taylor showed up and let her look at his text messages with Stowers.
"You guys f**ked! I hate you I hate you. You don't deserve me. You f**ked another girl and f**ked up everything. I'm done. I f**king hate you," she screamed at him.
A tearful Cartwright confronted Taylor when they were both back in their own apartment. "Tell me the truth. You did have sex with her," she yelled and Taylor shockingly said "Yes."
"At least you can finally f**king admit it," she said.
Taylor copped to the sex with Stowers quickly. "This isn't the first time I've been caught cheating," he confessed.
Cartwright was inconsolable. "I would never do that to you."
Article continues below advertisement
She called her mom on the phone crying, and told her what happened. "He cheated on me and he just admitted. I hate him. I should have known better."
"I seriously thought I was marrying Jax," she said. "I wanted it so bad. But the thought of it just makes me want to cry. You don't treat somebody like this if you love them. So obviously he doesn't love me."
After Cartwright returned from her trip to Vegas she headed back to work at Sur, and so did Taylor.
Vanderpump comforted her during her shift. "There's only one a**hole in this situation. I hope Brittany has the strength to make the right choices and not get sucked into Jax Taylor's bullsh*t."
Cartwright then dropped a major bombshell to Sheana Marie and Ariana Madix.
"I did something really stupid today. We had sex. I know I shouldn't have done that. I just wanted affection I guess. I wish so bad that I could stop loving him, but I can't. I just don't know what I'm doing."
Article continues below advertisement
She admitted that she was struggling with his cheating. "I go through different feelings. It just doesn't seem real. I broke up with him before he even admitted it."
But she said she didn't get wild in Vegas after she dropped him. "I'm not like Jax, who can just f**k someone that easily."
Stassi Schroeder was the only other cast member to get significant time on VPR. She asked Vanderpump to let her be an event planner at Sur, and she agreed. Schroeder also had a romantic dinner with her boyfriend Patrick Meagher where she gushed about their relationship.
"I'm worried about getting back together with Patrick. It's f**king hard. And I'm willing to fight for that."
Stay with Radar for weekly recaps of all the drama on Vanderpump Rules!
We pay for juicy info! Do you have a story for RadarOnline.com? Email us at tips@radaronline.com, or call us at (866) ON-RADAR (667-2327) any time, day or night.