Real Outrage! Teresa Giudice Insults Jacqueline Laurita With Karma Comment About Children On RHONJ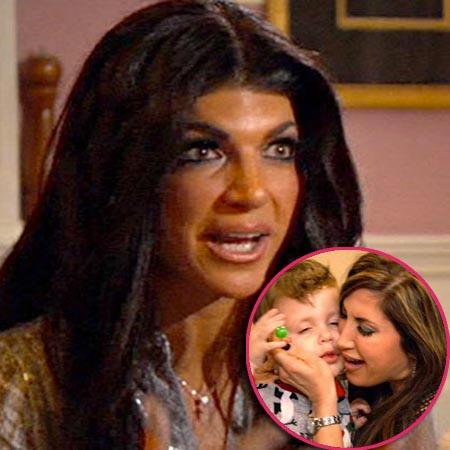 Article continues below advertisement
"I like where we are," she added, hoping to "keep it positive and see where it goes."
But Teresa put her foot in her mouth by saying, "My thing is, I don't want to ever do anything to hurt anyone because karma might not come back to me but to my daughters."
In a confessional afterwards, Jacqueline, mom to an autistic boy, Nicholas, fumed, "The comment about karma--if it doesn't get you, it'll get your kids--what is she talking about there?"
Earlier, however, after a hike at the ritzy Miraval Arizona Hotel & Spa, Teresa used the help of a faith healer to mend fences with the gang.
In a healing exercise, Teresa, who famously feuded with her brother, Joe Gorga, and just about everyone else in the cast, was forced to hear how she'd hurt the others.
"I'm emotional hearing everyone who had a problem with me," Teresa said after her brother confided he wanted to burn "anger and hate" and Jacqueline Laurita wanted to let go of ill feelings during a purifying ritual.
Article continues below advertisement
"I'm in a good place right now with everyone I'm holding hands with and I want to keep it there," Teresa said as they all stood together.
The housewife claimed she was looking forward to "love, happiness, joy, reuniting."
But after her tasteless comment to Jacqueline, it looked like she created conflict once again!
Also on Sunday's episode, as RadarOnline.com previously reported, birthday girl Melissa wound up getting ill and spent most of the vacation in her room, taking her medicine -- while also trying to get a tan!
Caroline Manzo was looking forward to finally getting away with her workaholic husband Albert, while Kathy Wakile and her husband Rich still appeared to be suffering marital strain after last week's conflict over her cannoli business.
Miraval Spa served up activities and zen, but the Jersey folks were up to their usual vulgar ways.
"After all these years you still look hot, baby," Joe Giudice said to his wife Teresa as she appeared in her bikini.
Article continues below advertisement
"My wife is sexy no matter what," Joe Gorga said. "I'll catch all her diseases."
Rich complained so much that Joe Gorga laughed, "I think he was on his period," while Albert was looking at his phone and still had his mind on business.
But things really turned serious when a psychic, Tina Powers, showed up to give the RHONJ stars various supernatural messages.
Tina told Melissa, "You want to forgive but you're having a hard time. Something was misconstrued."
Teresa snorted in confessional, "Even the dead is telling Melissa I had nothing to do with these rumors of her cheating."
Rich was a doubting Thomas until Tina summoned a message from his late father, who had passed away from heart failure.
Tina said his dad was telling him "to please get the wedding video out" and Rich started to cry.
It turns out Rich could not bear to look at his wedding video to Kathy because his dad was in it.
Article continues below advertisement
"He was a true father," he said of his dad's sudden death, breaking into tears.
"He's proud of you," Tina said.
Tina also mustered the spirit of Kathy's late dad, who died of cancer before telling Kathy he loved her.
Kathy started to cry, as did her sister, Rosie Pierri.
"He was my hero," Kathy said. "After he died, it broke my heart. I want to hug him!"
Later, Kathy told Teresa and Rosie she wanted to thank her dad for helping her.
But it truly hurt that her dad never got out the words, "I love you."