NSFW! Teresa & Joe Giudice Have 'Sexy Time' In The Hotel Tub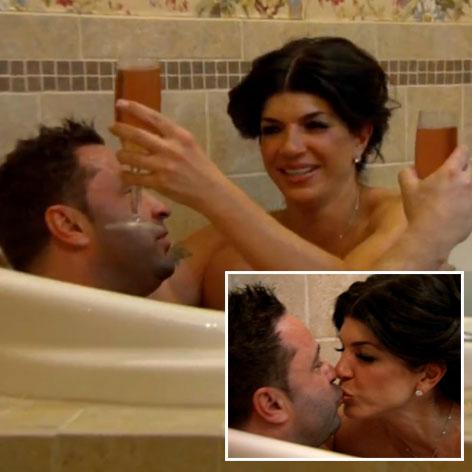 Teresa Giudice and her husband Juicy Joe know the best way to keep their marriage strong is through "sexy time" and in the upcoming episode of The Real Housewives of New Jersey the pair strip down to nothing and get frisky with each other in the bathtub!
The sneak peek that is almost crossing the line into adult entertainment shows Teresa and Joe pour champagne on each other and smooch in the tub of their hotel on the retreat where the family had been in a knock down drag out fight just a few hours earlier.
Article continues below advertisement
But Teresa knows how to keep her man happy!
"Sexy times relieves a lot of stress," the reality star seductively says about their bedroom activities.
"My husband was defending my honor," Teresa says and then tries to sing a few bars from porno music.
You have to watch the video to see Teresa try and sex it up for her hubby.
The Real Housewives of New Jersey airs on Bravo Sunday at 87c.