Teresa Giudice Tells Jacqueline Laurita She's 'Evil' In Bitter Exchange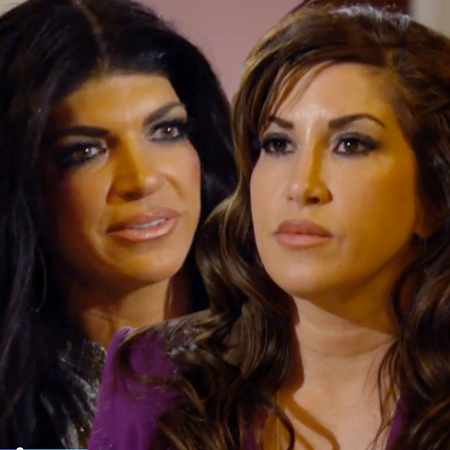 Article continues below advertisement
After Jacqueline admitted referring to Teresa as a sociopath, Teresa stormed in confessional, "What the f---- is a sociopath? A crazy person? I feel like Jacqueline's calling me a sociopath because she really doesn't have much on me and it's the worst word that she can think of."
When the ladies sat down together in a private room, Jacqueline admitted she was sick for a week after their long-term friendship had fallen apart.
"I wish you would have knocked on the door," Teresa said.
Watch the video below.
However, Jacqueline was tired of being blamed for Teresa's feud with her brother, Joe Gorga -- which had just been smoothed over at a family retreat.
"She still has the b**** to blame me for her family issues," Jacqueline said in her confessional.
Teresa then startled Jacqueline by telling her, "I realize there's evil people out there -- and I just feel like you're one of them."
Article continues below advertisement
"That's hurtful," Jacqueline said. "I've always done everything to help you."
"You've known me long enough to know I'm not an evil person," Jacqueline added.
Teresa said, "You hit below the belt."
When Jacqueline said Teresa had hurt her, Teresa asked, "How did I hurt you?"
And the episode ended, to be continued next week.
But as the show opened, the Giudice and Gorga clans were finally reunited after healing the family feud on last week's show, and had dinner together with the entire family making nice. Joe Gorga said he should be closer to Gia, the Giudices' oldest girl, who is his goddaughter.
Meanwhile, frenemies Melissa and Teresa teased each other.
"I'm going to be a good sister-in-law and keep my mouth shut so we can be a family," Teresa told the camera.
Melissa said she had stopped by Jacqueline's home and also saw Caroline Manzo, who told her about the promise Teresa had made during the retreat -- to reconcile with Jacqueline next.
"She said my husband cheated," Teresa told the family, referring to Jacqueline's explosive comments during last season's reunion special.
Article continues below advertisement
According to Teresa, Jacqueline plays the quiet mouse -- but she's also the one who investigated former housewife Danielle Staub.
"I'm her victim," Teresa said over dinner.
Joe Gorga enjoyed the dinner but thought: what would make it complete? If Teresa reconciled with Jacqueline, her former friend of ten years.
Later, Kathy Wakile and her lesbian sister, Rosie Pierri, talked about her past love life. Kathy recalled how Rosie dated a girl she didn't approve of.
MORE ON:
Jacqueline Laurita
"I want you to know you being gay had nothing to do with how I felt," Kathy said.
But Rosie believed Kathy should have "shut up about it" because she knew she loved the woman.
Rosie told RHONJ fans, "I'm 45 years old and very alone. When is it going to happen for me? I need to have some fun."
To that end, Kathy, her husband Rich, and Joe and Melissa Gorga took Rosie to a lesbian singles night to check out the crowd.
Article continues below advertisement
"I'm a good girl with a little bad girl in me," Rosie declared, and said she was looking for a woman, not a little girl.
She was shocked to find women at the event who swung both ways.
"I don't go for bisexual," Rosie said. "Either they're too young, bisexual, or swingers. I only swing one f***ing way -- with women!"
Although she found an attractive blonde, Rosie talked too much and the woman kept her at arm's length.
"I'm a little smitten," Rosie told the prospective date, while also admitting, "I'm a little chunky."
"I gotta go," the woman said.
"I've put my toes in the water a bit. Maybe she'll call," a hopeful Rosie said.
Meanwhile, on the Manzo family front, Caroline and husband Al were in their apartment and the kids stopped by. The boys talked about their planned restaurant, and Caroline was worried about oldest son Albie overworking.
Article continues below advertisement
But her husband, Albert Sr., said, "He's going to do it his way."
Albie thought his parents put pressure on him to work hard because he's the oldest son.
He also realized his dad is a workaholic, and asked Caroline, "Do you know each other at all?"
"Our marriage is none of your business," Caroline said in a confessional aimed at Albie.
In another Sunday night storyline, Joe Gorga did a shoot for a billboard for the tanning company Sizzle Tan, which his sister Teresa had done a TV commercial for earlier.
Gorga flexed his pecs at his shoot, making everyone laugh. "I could be the next Calvin Klein model," he boasted.
While he did that, wife Melissa shot a cover for her upcoming book about how she keeps her marriage hot and sexy, and enjoyed having a fan blow her hair back.
But Joe, who likened Melissa to filet mignon, said, "Once in awhile, you need a hot dog," when he was presented with a young sexy model he could pose with for the tanning ad. He lifted the model over his head and did push ups with her on his back!