Exclusive
Could Teresa Giudice Get Off? Details Of How Her Husband Covered For Her In First Fraud Case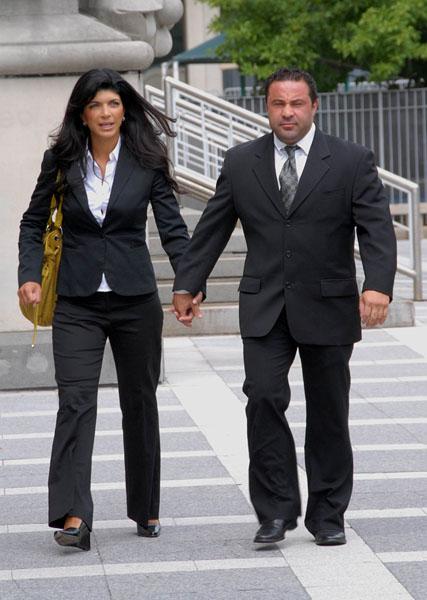 As Teresa Giudice faces the prospect of 50 years in prison, the Real Housewives of New Jersey star has made it clear that whatever happens, she's standing by her husband -- and co-defendant -- Joe Giudice.
"I support Joe," she said in a statement after her indictment. "As a wonderful husband and father, I know he wants only the best for our lovely daughters and me."
Spousal loyalty aside, that could prove to be a shrewd decision: A case insider tells RadarOnline.com exclusively that Joe is likely to repay Teresa's loyalty by taking the fall -- as much as possible -- in their fraud trial.
Article continues below advertisement
"My guess is that Joe will take some sort of a plea to lessen or remove anything from his wife," Monica Chacon, an attorney who represented Joe's former business partner in a 2007 fraud case tells RadarOnline.com.
In that case, brought against Joe by Joe Mastropole, Teresa was eventually absolved of any connection to the fraud, even though her signature appeared on several documents. Joe was willing to accept some responsibility for forging her signature.
"Did your wife sign that?" a lawyer for the plaintiff asked Joe of one crucial document, according to a transcript obtained by RadarOnline.com. "No," Joe answered, unequivocally.
"Who signed that?" he was prodded.
Joe answered, "I might have" and continued to insist that Teresa had nothing to do with his business dealings and was therefore innocent of the fraud charges.
Teresa later chimed in, "I wasn't involved in their business… I never went to a closing. I never signed any papers. I find out now that my name was on a lot of properties, which is news to me."
But the plaintiff, Mastropole, insisted the Real Housewives of New Jersey stars were lying to help her get off, saying, "Any mortgages she ever got, she knew darn well and she signed those mortgages … You know, Teresa and Joe are very good actors. They should be on HBO."
Whether she will get a happy ending once again remains to be seen.