Exclusive
Inside The Giudice Fraud: How Feds Believe The 'Housewives' Couple Pulled Off The Scam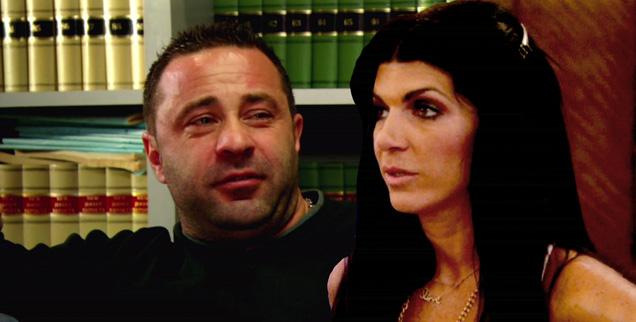 The indictment of Real Housewives of New Jersey stars Joe and Teresa Giudice was shocking, but according to the courts the Giudice's have been engaging in fraudulent activities since at least 2007 -- and it finally caught up with them.
RadarOnline.com has exclusively obtained court documents that show Joe admitted to forging a mortgage as far back as 2007 -- six years before he and Teresa would be indicted on mortgage fraud. See Joe's forgery here:
Article continues below advertisement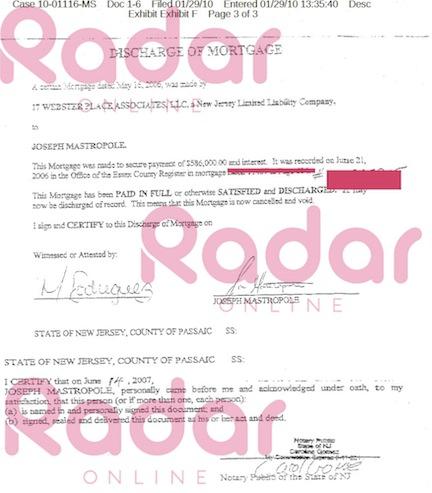 In 2007, Joe's former business partner, Joe Mastropole gave him a $586,000 loan, as RadarOnline.com reported.
Joe paid back $300,000 but instead of paying the rest, he forged a June 2007 document with Mastropole's fake signature stating that the mortgage was discharged, or fully paid. Joe reportedly then took out another loan and kept $1 million for himself.
When the case came to trial in 2010, Joe admitted that he had forged Mastropole's signature, as well as the notary's signature and seal, but said he'd had his partner's verbal authorization to do so, which Mastropole denied.
According to documents obtained by RadarOnline.com, Mastropole's lawyer, William Carlo Saracino told the court, "My client says Giudice forged his name. Giudice says he did it with content. Why would he have to do that? He knew where the office was. He knew Mastropole. … Why would he have to use a notary from somebody that was no longer with him for at least three months if this was all on the up and up, above board?"
Article continues below advertisement
"There should be no doubt that this was not done with authority," Saracino continued. "It could have been easily done by Mr. Mastropole. He could have signed his own discharge of mortgage if that's the way it was going to go down. He was accessible. They were in the same building. … False representation or actual fraud … we've proved beyond a shadow of a doubt what happened here."
Judge Morris Stern eventually ruled that Giudice owed Mastropole $260,000 and included a warning in his judgment that seems incredibly prescient in retrospect.
"The signing of Mastropole's name was a forgery… exhibiting willfulness and malice toward a former friend and current adversar," Judge Stern wrote in misjudgment.
"The extraordinary web of lies and misrepresentations woven by Giudice to implement and cover his misconduct reflects on his approach to business matters and suggest his disregard for legal restraints which would bind others."
Both of the Giudices now face more than 50 years in prison for allegedly engaging in similar cases of fraud.