Exclusive
EXCLUSIVE: Claims Against NJ Housewife Teresa Giudice Dismissed In Fraud Case; Husband's Kept Intact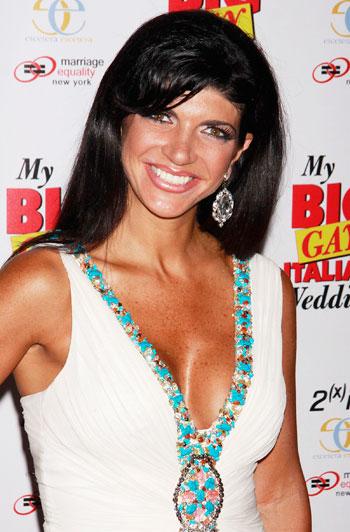 Real Housewives of New Jersey star Teresa Giudice is now in the clear in a fraud lawsuit brought against her husband Joe by a former business partner. Claims against Teresa were dropped Wednesday by a New Jersey judge and RadarOnline.com was on the scene as the court action unfolded.
Teresa testified in the federal case that was brought against Joe Giudice by his former business partner, Joe Mastropole, who claims that the housewife's hubby forged Mastropole's signature on a mortgage document in order to take out another loan and keep $1 million for himself.
Article continues below advertisement
Mastropole alleged in his claims against the Giudices that Teresa participated in fraudulent activities along with her husband because her name and signature is on the mortgages.
Judge Morris Stern dismissed claims against Teresa based on information given in court that proved she was not connected to her husband's business dealings and although her signatures were on the mortgages she was not a business partner in her husband's real estate ventures.
However, according to the judge, this may not fully exonerate Teresa as there still may be a breach of contract issue.
In 2007, Mastropole claims he gave Joe a $586,000 loan secured by three East Orange, NJ, buildings. He says Giudice repaid only $300,000 -- and the balance was due three years ago. Instead of re-paying the money owed to Mastropole, Giudice forged a June 2007 document stating the mortgage was paid, says Mastropole.
Article continues below advertisement
EXCLUSIVE CLIP: NJ Housewife Danielle Staubs' Emotional New Music Video
Mastropole won an October 2009 judgment in the case, which is now in dispute because the Giudices filed for bankruptcy that same month. The Guidices are hoping the debt will be discharged because of their bankruptcy.
Teresa's husband Joe also testified Wednesday as his lawyers attempted to get all claims dismissed.
But the judge refused to dismiss fraud and willful and malicious injury claims against Joe Giudice, who was hurt by testimony from his former attorney Joe Testa. The attorney was treated as a witness in this case.