Melissa Gorga's Ex-BFF Says Housewife Cheated On Hubby Joe, Has Plenty Of 'Skeletons Under Her Bed'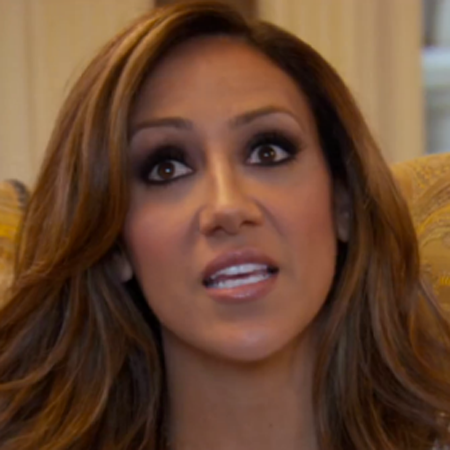 Melissa Gorga confronted the former friend who branded her a cheating wife on Sunday night's episode of The Real Housewives of New Jersey.
Things got weird when her sister-in-law, Teresa Giudice -- with whom Melissa's established an uneasy truce -- intervened during her talk with another woman about the cheating claims. And Teresa appeared to be diverting attention from her own possible role in gossiping about Melissa's marriage to Joe Gorga.
Article continues below advertisement
Listen! 'RHOP' star Wendy Osefo breaks down the "most intense fight in the show's history" in under 2 minutes.
Melissa was devastated when Life & Style magazine claimed in a cover story that she had two-timed Joe with a former boyfriend.
She got even more angry when a group of women Teresa had lunch with told her sister-in-law she'd cheated.
So, on Sunday's episode, during Teresa's launch party for her Milania hair care line, Melissa arrived determined to have a showdown with her former friend Jan DeDolce.
After Jan sauntered up to Melissa and Teresa, Melissa said, "You told them I met my ex."
According to the explosive claim, Melissa allegedly trysted with the former boyfriend in a car in a parking lot.
"You did meet your ex," Jan snapped.
Jan, once one of Melissa's bridesmaids, went on to claim, "You used me as an alibi. I'm done lying for you!"
According to Jan, Melissa could have won an Academy Award for her lying.
Article continues below advertisement
She told a stunned Melissa, "You have a lot of skeletons under your bed."
While Teresa stayed silent, Melissa fumed that her friendship with Jan was "done."
"They're trying to break us up," Joe Gorga said.
But it wasn't over for Melissa, as a woman she didn't know, Penny Drossos-Karagiorgis, also talked to her about the alleged affair, saying vaguely that someone had asked her about it. Penny clammed up, however, when Melissa pressed her on who wanted to gossip about her marriage.
When Teresa kept intervening in the chat, Penny finally said, "Teresa has nothing to do with this."
However, as RHONJ fans know, Melissa and Teresa only recently patched up their volatile relationship -- and Teresa hasn't been a solid sister-in-law in the past!
After watching her stage manage Melissa's talks with the two women, Joe Gorga commented in confessional, "She's trying too hard to make herself seem innocent."
Article continues below advertisement
But Teresa insisted to the couple, "I would never do anything to hurt you guys."
Will more fireworks come for the two women famous for them?
"I feel like someone's hands are dirty," a suspicious Melissa implied of Teresa.
As the episode opened, however, the two appeared to be close again.
Melissa was being supportive of Teresa's hair care line, named for her daughter Milania.
"I feel like we're starting over," Teresa said, after the Gorgas and Giudices had mended fences at a family healing retreat.
Unfortunately, Teresa also made a scathing comment about Melissa's new book, Love Italian Style, about how to have a sexy marriage.
"Where the hell is my brother?" Teresa said in confessional about the book's cover shot--which showed Melissa standing by herself instead of with her husband!
Meanwhile, housewife Jacqueline Laurita returned to New Jersey after viewers saw her get a tummy tuck and a neck lift in Beverly Hills during last week's episode.
Article continues below advertisement
On the way home, Jacqueline wished she'd had her eyes done, too!
Her husband Chris and sons Nicholas and CJ were waiting with open arms.
"I'm done with the 'me' time," Jacqueline said. "Tummy tuck, check!"
On the Wakile family front, Kathy was trying to build her cannoli business, but her husband, Rich, kept butting in. Kathy confided that Rich still treated her like a stay-at-home mom.
Kathy told friend Caroline Manzo it was tough because Rich was making decisions on her business.
"It's p***ing me off. He's gotta have it his way."
Later, Rich wanted her to use the test kitchen he'd leased for her, but Kathy said she didn't want to go back to cook in a place where she wasn't comfortable.
"I'm done making all these efforts to make things better," Rich complained about Kathy in a confessional scene.
Rich later went out for a guys' night with Joe Gorga and Chris, who said Jacqueline looked good after the plastic surgery.
Article continues below advertisement
"When it comes to Melissa, I love her boobs," Joe confided. He even said he wouldn't mind if they were even a little bigger!
Meanwhile, viewers learned Caroline's daughter, Lauren Manzo, wants to make her own money and her own decisions and didn't want to be in an old school marriage like her mom, whose husband Albert called the shots.
When Lauren went out with longtime boyfriend, Vito, she told him bluntly, "I'm not ready to marry you."
And she didn't want to live with him, either, because his parents wouldn't approve.
Lauren elaborated to the camera that before, "I could not wait to get engaged." But after getting involved in business, "He is my second priority. I had a ring picked out and now I really don't care."
Watch the video on RadarOnline.com
According to Lauren, Vito just wanted to sit on the couch and watch TV and eat!
Also on Sunday's episode, Melissa's husband Joe convinced all the RHONJ stars to go to Arizona for a spa vacation to celebrate her upcoming birthday and they all agreed, even Teresa and husband, Juicy Joe (who haven't been out of the headlines since their recent indictments).