New Jersey Goes Hollywood, As Jacqueline Laurita Crosses The Country For A Nip/Tuck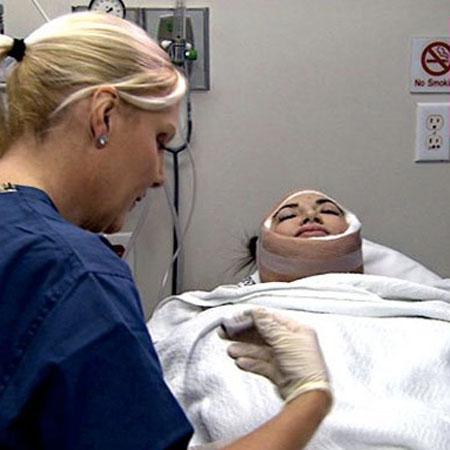 Another Real Housewife went under the knife!
On Sunday night's The Real Housewives of New Jersey, viewers saw star Jacqueline Laurita take a break from her husband and two kids, including son Nicholas, to get what she insisted was a much-needed a tummy tuck and neck lift from a Beverly Hills plastic surgeon.
And after the operation, Jacqueline, with her swollen head swathed in bandages, told her husband Chris over the phone, "I look like a turtle!"
Article continues below advertisement
Then she fell asleep!
The dramatic plastic surgery drama began with Jacqueline announcing to Kathy Wakile during a shopping trip for lingerie that she felt embarrassed about her saggy tummy (which prevented her from wearing a bikini) and droopy neck.
She told the other housewife that she was flying to L.A. to get the plastic surgery.
Her husband, Chris, "doesn't think I need it but he's like, if that's what you want to do ... he's supportive."
Jacqueline said in a confessional, "I want to do this for myself. I'm getting rid of all the baggage in my life.
"I think it's beautiful when people can grow old gracefully. But I just want to fight it."
Later, Jacqueline told the other housewives and their men that she was getting the surgery and Melissa Gorga said "Jacqueline is so beautiful and I don't think she needs plastic surgery but she's been in a little bit of a sad place going through everything she's going through, so God bless her.
Article continues below advertisement
"She wants her sexy back!"
Jacqueline said directly to the camera about her excess skin, "Suck it out! I don't give a crap. Get rid of it."
The housewife wound up at Beverly Hills' Neo Surgery Center -- where her daughter, Ashley Holmes, who had previously been on RHONJ but is now a blogger living in L.A., met her for moral support during the pre-op consultation.
"Let's go do this!" Jacqueline told her doctor enthusiastically.
Meanwhile, her husband Chris told viewers back at home in New Jersey, "I'm here juggling work and the boys at the same time."
Caroline Manzo went to visit Chris and was shocked to see that their son, CJ, was sick with a possible case of strep throat -- with mom nowhere in sight.
But back in Hollywood, Jacqueline was oblivious, having dinner with her parents (also on hand in California to help her during the surgery) and Ashley.
Article continues below advertisement
"Tequila for everyone!" Jacqueline said -- but both her parents and daughter refused to drink shots with her.
Ashley said, "I don't really drink a lot."
And her mother said in a confessional segment it was like a role reversal: "I'm on spring break!"
Jacqueline's father bluntly told her they disapproved of the surgery plans.
"Your t**ts are going to be up here," he said, gesturing upwards.
"We don't want to see you go under the knife. It scares the hell out of me. You're crazy," her dad shuddered.
Jacqueline trilled, "I'm more excited about the outcome."
"You are sick, you know that," her father sighed.
Ashley talked about her fear about the operation to her grandparents, and meanwhile, back in New Jersey, Chris fretted about Jacqueline possibly dying on the operating table.
However, the operation was a success as the doctor emerged, saying it went fantastic.
"I hope this is her last surgery," Ashley declared with relief.
Article continues below advertisement
Before she got her plastic surgery makeover, Jacqueline mended fences with Teresa Giudice as the RHONJ concluded the former friends' pow-wow from last week, in which Teresa called Jacqueline "evil," and Jacqueline branded Teresa a "sociopath."
On Sunday's show, Jacqueline wound up breaking into tears and saying if Teresa thought she was focused on Tweeting nasty things, that wasn't true, because her focus was on her autistic son, Nicholas.
"You have no idea what I go through on a daily basis." Jacqueline cried to Teresa (who is facing fraud charges with her husband Joe) about Nicholas' many struggles.
Teresa confided, "You were like my sister, my best friend. I was blaming you because I wasn't talking to my brother. I just want us to be civil. If we see each other, let's say hi. If something bothers you, just text me."
Jacqueline agreed, although she privately doubted they'd get their relationship back to the close friendship it had once been.
Article continues below advertisement
As RadarOnline.com has previously reported, Teresa's brother, Joe Gorga, went go-carting with his niece, Gia, during the episode, in an opportunity to bond after the family strife.
Joe explained to Gia, his goddaughter, that things happen in life but Gia confronted him over the brother/sister feud at his son's christening.
"You were saying cruel things to my mom and I was pulling my mom away," Gia recalled.
Gia said the kids at school later told her, "Your uncle's a maniac. I broke down in tears because I didn't know what to do."
A chastened Joe said, "Your uncle's not a maniac. I love you. I love your mother."
In confessional, Joe said, "I'm embarrassed for myself. I'm going to control myself. Whatever it takes, I'm going to try."
Later, at a charity event for the Nephcure Foundation, Teresa brought the whole gang together, including Jacqueline, and Teresa and Jacqueline hugged each other at the Zumba dance charity event.
Watch the video on RadarOnline.com
"Maybe I misjudged you. I'm sorry," Jacqueline told Teresa.
The other housewife replied, "I'm glad we are where we are now."
But Jacqueline wasn't happy where SHE was -- cosmetically speaking -- and soon changed that!
The Real Housewives of New Jersey airs Sundays on Bravo at 8/7c.