Teresa Giudice And Jacqueline Laurita's RHONJ Peace Pact May Be Short Lived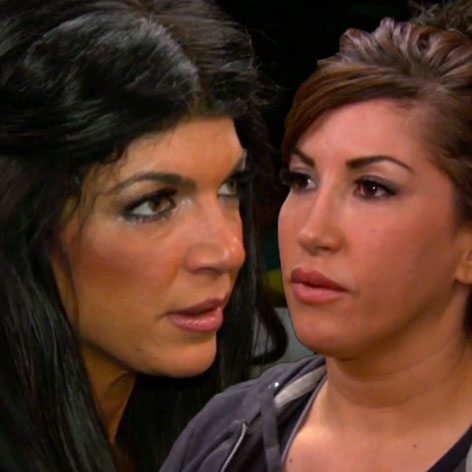 Article continues below advertisement
"The other night Jacqueline called me a sociopath. Can you define that word? Because I've heard of psycho b*tch, but never a sociopath."
GALLERY: The Giudice's 30 Most Shocking Quotes About Fraud & Finances
"I think you should just Google it," a smiling Jacqueline coyly replied.
So Teresa looked it up and read the definition aloud; "A person who lacks the sense of moral responsibility, often anti-social and lacks social conscious."
You can hear a pin drop and it appears that Teresa, who is busy mending family fences and hashed out her differences with Jacqueline, keeps her cool.
Away from the bus, a shocked Teresa asked, "Like what the f**k is that? I know I'm not a sociopath, but I don't want to go there," she says.
"We're making progress and we are moving forward. I don't want to go back to that place. Capeesh?"
It looks like Teresa is taking the high ground – for now.