Oscar Pistorius Murder Trial: Friend Details Olympian's 'Big Love Of Weapons,' Itchy Trigger Finger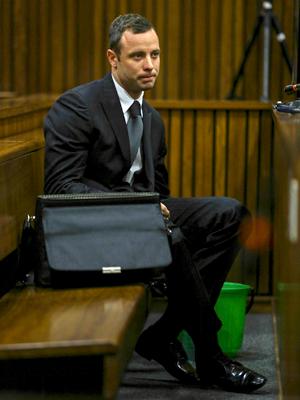 In the seventh day of the Oscar Pistorius murder trial, a friend of the runner said that on two occasions, the double-amputee Olympian fired guns under dangerous, unusual -- and illegal -- circumstances.
Darren Fresco Tuesday testified in South Africa's Pretoria Magistrate's Court, where Pistorius is on trial, accused of murdering girlfriend Reeva Steenkamp during a Valentine's Day spat last year.
Fresco said that two incidents (previously discussed in the trial) in which Pistorius is accused of violating firearms statutes -- charges which the "Blade Runner" denies -- did indeed happen.
Article continues below advertisement
In the other, Pistorius "without prior warning ... shot out the sunroof" of his car after an altercation with a police officer in 2012, Fresco told the court, after the lawman held a licensed gun Pistorius had on his person.
"He was furious that someone else had touched his gun," Fresco recalled, adding that right after the incident, "we went to a house to go see someone about a firearm."
Watch the video on RadarOnline.com (Warning: Content, Language Is Explicit)
MORE ON:
Celebrity Justice
That testimony alone could spell serious trouble for the embattled athlete, as he's charged violating firearms laws in both instances, pleading "not guilty" to both. As we previously reported, should Pistorius convicted of premeditated murder, he could be sentenced up to life with a 25-year minimum sentence. If convicted of murder, he could face up to 15 years behind bars.