Reeva Steenkamp's Dad Wants To Meet Oscar Pistorius 'For Closure,' But Model's Mom Doesn't Ever Want To See Him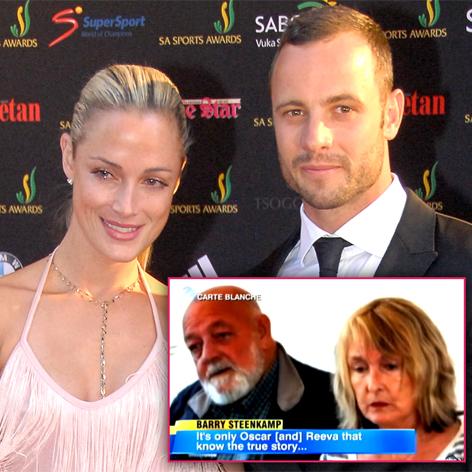 The heartbreaking details of how Reeva Steenkamp's parents are dealing with their loss are emerging one month after the model was shot to death by boyfriend Oscar Pistorius.
Reeva's mom and dad revealed in a new interview that they are coping with their grief in vastly different ways.
Barry Steenkamp, 69, says he wants to meet Pistorius, who is accused of murder but claims the Valentine's Day shooting at his home was an accident.
Article continues below advertisement
"I just feel it's necessary. For closure," he tells YOU magazine in South Africa.
But his 66-year-old wife June disagrees. She says she never wants to see the Paralympic gold medalist – and darling of the 2012 Olympics – ever again.
"I don't want anything from him," she says. "What could he say to me? My daughter is gone and nothing can change that.
"I don't ever want to see him."
Barry revealed one shockingly insensitive event: After Reeva's death the 26-year-old athlete known as Blade Runner sent them flowers with a card that read: "From the office of Oscar Pistorius."
Meanwhile June reveals the moment she saw her daughter's body as she lay in the crematorium.
The grief-stricken mother peaked under the hood that covered Reeva's head and saw the bullet hole in her skull, U.K. newspaper The Mirror is reporting.
Her ashes were later scattered in the sea with the scenic Table Mountain in the background.
In addition to losing their child, the Steenkamps also face financial ruin and could be evicted from their home in Port Elizabeth, South Africa because the model was paying their bills after illness forced Barry to stop working.
Article continues below advertisement
Her uncle Michael Steenkamp told AFP: "They have been given notice on their home by the owners.
"They are going to be vacating that house soon."
But for the couple it is the loss of their daughter that is devastating. June says: "She was a lovely, generous person.
"She was terribly busy. She led a very exciting life and tried to do everything.
"It's almost as if she knew she only had a little time in which to get everything done.
"This is forever. It's the end."
As RadarOnline.com previously reported, last month on South African TV the Steenkamps made a tearful plea for Pistorius to "come out with the honest truth."