Oscar Pistorius Murder Trial: Boxer Testifies Pistorius Asked Pal To Take Blame For Errant Public Gunshot Shortly Before Reeva Steenkamp Shooting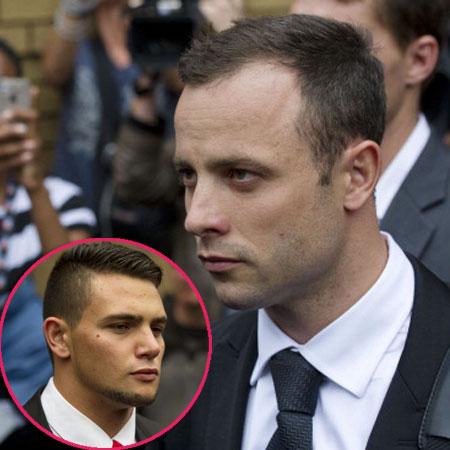 South African boxer Kevin Lerena, testifying in the murder trial of Oscar Pistorius Wednesday, said the double-amputee Olympic runner asked someone to cover up for him after he mistakenly fired a pistol in a restaurant just weeks prior to his fatal shooting of girlfriend Reeva Steenkamp.
Lerena, taking the stand in South Africa's Pretoria Magistrate's Court Wednesday, said the incident occurred in a swanky Johannesburg restaurant called Tashas in Jan. 2013, when mutual pal Darren Fresco slipped Pistorius a gun under the table, at which point, the gun went off, grazing Lerena's toe.
Article continues below advertisement
"I had never been in a situation where a gun goes off like that … there was just complete silence" after the shot was fired, Lerena said, noting that a contrite Pistorius asked them, "Are you OK? Is everybody OK?"
Lerena, a friend of both Pistorius and Steenkamp, said that when managers of the establishment went to ask about the gunshot, Pistorius urged Fresco to claim responsibility, telling him, '"Just say it was you. I don't want any tension around me … there's too much media hype around me."'
Pistorius gained international fame as the first-ever double-amputee runner in Olympic competition in 2012, garnering the nickname, the "Blade Runner."
Should Pistorius convicted of premeditated murder, he could be sentenced up to life, with a 25-year minimum sentence. If convicted of murder, he could face up to 15 years behind bars.