Oscar Pistorius Murder Trial: Accused Murderer Vomits During Stirring Testimony Regarding Girlfriend's Injuries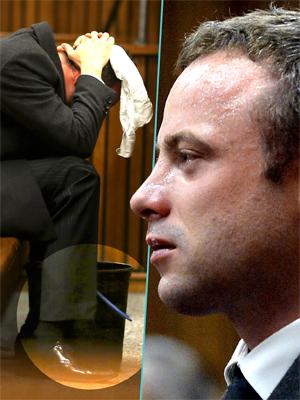 In the sixth day of the Oscar Pistorius murder trial in South Africa's Pretoria Magistrate's Court, the double-amputee Olympian upchucked during testimony about the severe injuries his late ex-girlfriend Reeva Steenkamp suffered after he shot her.
Pistorius' vomiting came after Prof. Gert Saayman, who performed Steenkamp's autopsy, went over photographs as he explained the nature of the damage the bullets did to the model's person, including bullet wounds and damage related to, spread across her entire right side.
Article continues below advertisement
Judge Thokozile Masipa stopped the trial as Pistorius vomited, instructing Pistorius' lawyer Barry Roux to deal with the runner, who was given a bucket should his stomach turn again.
Due to the "explicitly graphic nature" of Saayman's testimony, Masipa Monday also ordered the trial not be broadcast, and for reporters covering the day's events to not directly quote the doctor via social media while inside the court.
"Twitter is not allowed," Masipa said. "Blogging is not allowed."
As we previously reported, as the 27-year-old athlete, nicknamed the "Blade Runner" is accused of premeditated murder in the 29-year-old model's death, as prosecutors said he shot to kill as she hid in a bathroom following a loud Valentine's Day argument last year.
Should Pistorius convicted of premeditated murder, he could be sentenced up to life with a 25-year minimum sentence. If convicted of murder, he could face up to 15 years behind bars.