Ex-NBA Star Turns Foreclosed Mansion Into Filthy House Of Horrors - Beer Cans, Piles Of Trash, Bullet Holes, Human Waste!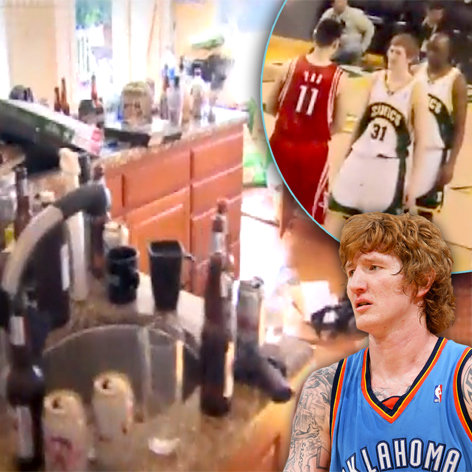 Article continues below advertisement
Instead of succumbing to the bank's demands to leave, the 7'1" red-headed giant had been squatting at the mansion and transformed it from a desirable home to a den of inequity, reported KOMO News.
"It seems like a very sad story and I definitely feel for him," said the new owner, Jessica Ko-Dalzell. When she bought the foreclosed home with husband, Eric, in January for half the original price, it was already in a terrible state, with trash piled high all over, rotting food, pools of human waste, beer cans covering the grassy lawn, bullet holes piercing the garage window, and Chevrolet El Caminos with missing engines sat unmoving in the driveway.
According to KOMO, Swift has now flown from his dirty coop -- leaving a path of devastation in his wake. A massive dumpster sits outside the house filling up with the dreams of the man fans hoped would be Seattle's basketball savior.
"It was a shocker," said Eric Dalzell recalling his reaction when he first entered the property. "Right now it is pretty unsanitary and super unsafe to be walking around here. This is the lovely way that somebody lives – lots of pizza boxes," and laying on one is a photo of the former NBA star in his hey day.
Article continues below advertisement
"Either a bat hit it or a fist hit it," Dalzell mused, while staring at a deep hole in the wall. "It is pretty foul, it smells like a lot of stale, rotting beer.
"There were guns every where," he added, along with a collection of knives and a curious "body torso" that had been used for shooting practice.
Downstairs is a reminder of Swift's wasted talent on the court, as boxes filled with scholarship letters from top basketball schools fill the closets – some of which were never even opened because the California native went straight into the NBA from high school.