Everybody Wants To Be Like Mike! Michael Jordan Turns 50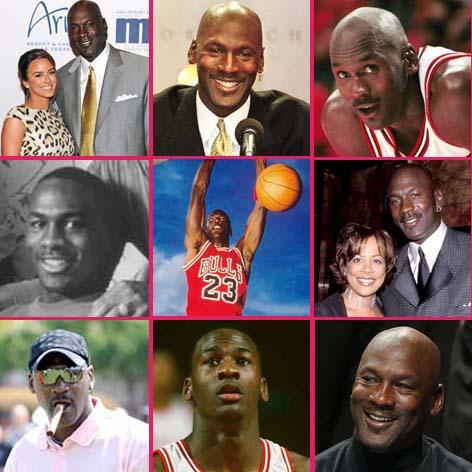 In the opinion of many, he's a greatest basketball player of all time...and the best marketed. He's also one of the world's most famous faces.
Michael Jordan is turning 50 today, and RadarOnline.com is taking a look back at his remarkable, fascinating life.
Jordan was born in Brooklyn, New York, grew up in Wilmington, North Carolina, and first came to national attention as a student at the University of North Carolina at Chapel Hill when he led their basketball team to a national championship in 1982.
Article continues below advertisement
Jordan joined the Chicago Bulls in 1984 and an NBA dynasty was born. He played with the team through 1994, retired for a year, and returned from 1995 through 1999. After a second retirement, Jordan joined the Washington Wizards where he played from 2001 to 2003.
The 6'6" shooting guard was a five time MVP during his NBA career, and in 1999 ESPN named him the most important American athlete of the 20th century.
Jordan's career on the court was equalled with his career as a product spokesman. Nike, McDonald's and Hanes are just a few of the companies he promoted, and his Air Jordans continue to be one of Nike's most popular shoe lines.
He became so wealthy that when Michael and his wife Juanita divorced after 17 years in 2006, she received a reported $168 million settlement!
Jordan is still part of the pro basketball scene -- he's the majority owner of the Charlotte Bobcats.
He's engaged to stunning blonde Yvette Prieto, and have reportedly set April 27 as their wedding date.
It is good to be like Mike. Happy birthday!