Mindy McCready Denies Shooting Boyfriend To Death, Claims 'He Was My Life'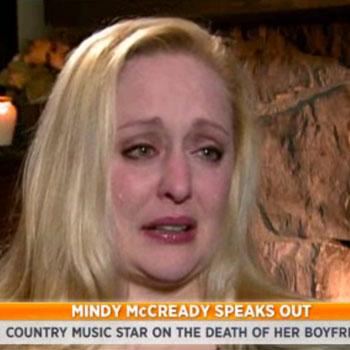 In a rare interview the TODAY show on Tuesday, country singer Mindy McCready denied she fatally shot boyfriend David Wilson earlier this month.
Asked if she pulled the trigger on Wilson in their Heber Springs, Arkansas home January 13, Mindy responded, "Oh, my God, no. He was my life. We were each others' life."
The singer, speaking from her Little Rock, Ark. home, told Andrea Canning Tuesday that she's "never gone through anything this painful" in life.
Article continues below advertisement
He "didn't just touch my heart, he touched my soul -- he was my soulmate," McCready said of Wilson, who fathered her 9-month-old son Zane.
McCready said she's unsure if Wilson killed himself or was murdered, adding she thinks the investigation in the case has turned into a "witch hunt."
McCready said when she saw Wilson after the shooting, she "just started screaming and calling 911," she said.
"I lay down next to him and just pleaded with him not to die," she recalled, noting how Wilson, 34, could only respond with sounds, not words.
McCready said the bullet that killed Wilson "was in the family dog's mouth," which is why it wasn't collected by authorities until a day after the shooting.
"I didn't find it -- the dog did … I mean, that's a horrific thing to say, but it was in the dog's mouth."
Cleburne County Sheriff's Department officials said that the record producer's death currently remains under investigation, and that forensic tests will soon reveal to investigators whether it was a suicide or murder. McCready has not been named a suspect in his death.