Miley Cyrus Tells Matt Lauer He's 'Definitely Not Sexual,' Says VMAs Twerking Bit 'Went Exactly As Planned'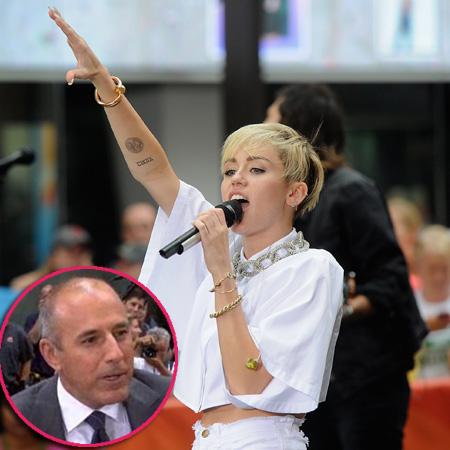 Miley Cyrus' transition from Hannah Montana to tawdry twerking has made the singer the most-talked about star in show business the past five weeks, and on Monday, the good girl gone bad sat down with TODAY host Matt Lauer for a candid chat.
Miley, 20, said much of the controversy generated by her racy rub on Robin Thicke in their duet of Blurred Lines was simply from those who aren't hip with the landscape of today's youth, and what keeps them entertained.
Article continues below advertisement
"I don't ever really plan to offend people, but sometimes that just happens, because I think people aren't open to what they don't understand," she said, sounding hoarse after a busy weekend including a Saturday Night Live hosting gig. "But that's why what I'm doing is for my fans, because they're all really young, so they understand what I'm doing."
Reminded of her comments labeling the performance a "strategic hot mess," Miley stood by her statement, telling Lauer the night "went exactly as planned.
"It's a month later," she reasoned, "and we're still talking about it."
When Lauer asked the former child star if her sexy new image was merely a phase, Miley insisted, "No, because this is just like who I am.
"I think it's only hard if you're trying to be something you're not," she said. "Being who you are is really easy if you're really true to that. I heard when you turn 40 things start to go a little less sexual. So probably around 40, I heard that's when people don't have sex anymore. I guess maybe around then."
Article continues below advertisement
When Lauer asked the We Can't Stop singer how old she thinks he is, she told him 40, at which point the flattered TODAY host told her he was 55.
She replied, "55? Oh, well, then you're really definitely not sexual."
Lauer, on point with relevant questions throughout the six-minute exchange, asked Miley about her recent feud with Sinead O'Connor.
"I think she is an incredible artist and I was inspired by her for my 'Wrecking Ball' video which started the whole thing," she recalled. "I don't know how someone can start a fight with someone that's saying, 'I respect you and love what you did' responding with 'You suck and I don't like you.'
Watch the video on RadarOnline.com
Visit NBCNews.com for breaking news, world news, and news about the economy
"That was crazy, but I'm still a big fan of O'Connor's … so it doesn't really matter. It's all good. You can write as many open letters as you want. That's what blogging is. I get open letters every day. It's nothing too new for me."
Prior to wrapping up, Miley again defended herself and her act, by saying she draws the line of success between performer and person.
"For me, the most important thing is being a really good person and that doesn't depend on what you do on stage," she said. "That depends on how you treat people when you're off stage and I know how I treat people, so I'm not too worried about it."