Annie Lennox Takes On Likes Of Miley Cyrus & Rihanna For 'Highly Styled Pornography'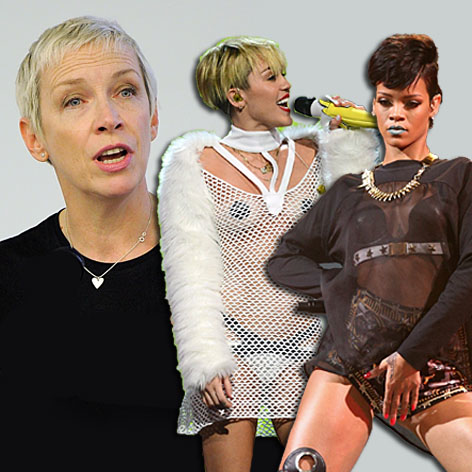 Annie Lennox has had it with femme pop stars wearing next to nothing and gyrating in "overly sexualized performances."
The rock icon and former Eurythmics lead singer didn't name names in her Facebook discourse but said she was sure her fans would know who she was talking about, implying that Miley Cyrus and Rihanna were at the top of her list.
"I have to say that I'm disturbed and dismayed by the recent spate of overtly sexualised performances and videos," Lennox wrote.
Article continues below advertisement
"You know the ones I'm talking about. It seems obvious that certain record companies are peddling highly styled pornography with musical accompaniment."
Lennox said she is all about freedom of expression but warns that how much money you can make should not be the bar on how far to push the envelope.
"As long as there's booty to make money out of, it will be bought and sold," she wrote. "It's depressing to see how these performers are so eager to push this new level of low.
"Their assumption seems to be that misogyny - utilized and displayed through oneself is totally fine, as long as you are the one creating it. As if it's all justified by how many millions of dollars and U tube hits you get from behaving like pimp and prostitute at the same time. It's a glorified and monetized form of self harm."