Sinead O'Connor Threatens To Sue Miley Cyrus, Slams Her For Mocking Mental Illness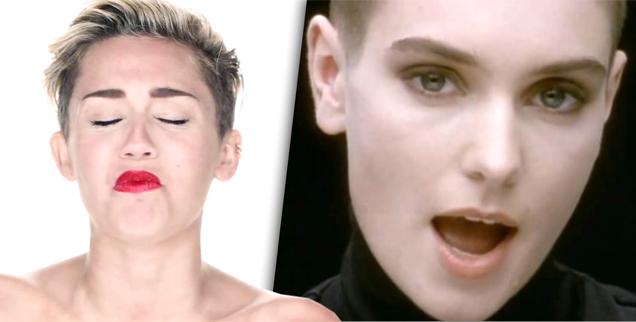 Sinead O'Connor really can't stand Miley Cyrus and the beef between the two exploded to a whole new level on Thursday afternoon when the Irish singer posted a second "open letter" to the pop star online, threatening her with legal action and slamming her for mocking mental illness.
O'Connor, 46, first opened the lines of communication with Cyrus, 20, on Wednesday when she posted a letter on her blog telling the twerking superstar that it's not "in any way 'cool' to be naked and licking sledgehammers in your videos" and tells her that she will likely "end up in rehab as a result of being prostituted" by the music industry.
Article continues below advertisement
O'Connor was quick to respond with another letter in which she blasts Cyrus and demands her tweet be taken down, or she will launch a legal attack.
"Miley… Really? Who the f**k is advising you? Because taking me on is even more f**kin' stupid than behaving like a prostitute and calling it feminism," she says in the letter.
"You have posted today tweets of mine which are two years old, which were posted by me when I was unwell and seeking help so as to make them look like they are recent. In doing so you mock myself and Amanda Bynes for having suffered with mental health issues and for having sought help.
"Remove your tweets immediately or you will hear from my lawyers. I am certain you will be hearing from all manner of mental health advocacy groups also. It is not acceptable to mock any person for having suffered.
Article continues below advertisement
O'Connor continues by calling Cyrus the "anti-female" of the music industry and "a danger to women."
"I am staggered that any 20 yr old woman of the 21st century could behave in such a dangerous and irresponsible manner as to not only send the signal to young women that its ok to act like prostitutes but also to the signal that those who have suffered or do suffer mental health problems are to be mocked and have their opinions invalidated. Have you no sense of danger at all? or responsibility?" she writes.
"It is most unbecoming of you to respond in such a fashion to someone who expressed care for you. And worse that you are such an anti-female tool of the anti-female music industry. I hope that you will apologise to Amanda Bynes and to any person who has been wounded by your mockery of those who have suffered. And I hope that you will wake up and understand that you in fact are a danger to women."
As a follow-up message, O'Connor also posted this:
Cyrus didn't appear threatened by O'Connor, responding with two messages on Twitter: